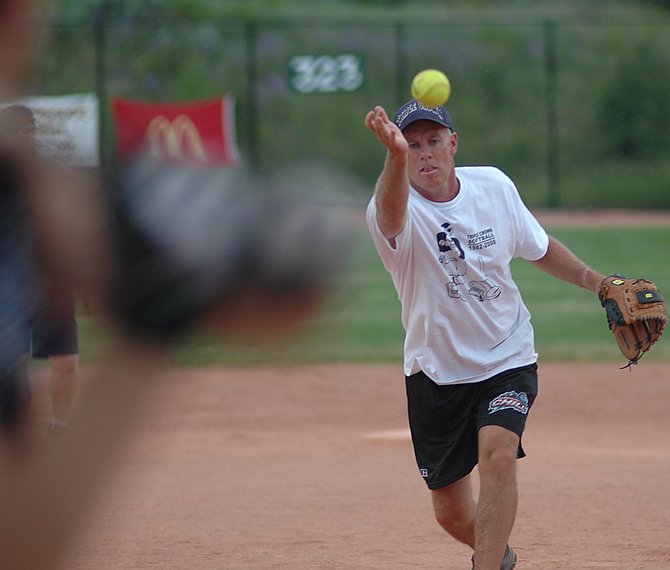 One last lob
Triple Crown says farewell to slow-pitch softball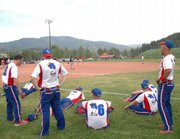 Steamboat Springs — Ronald Reagan was president, Michael Jackson dominated the charts and National Lampoon's Vacation had just opened in theaters.
A lot has changed since Dave King first brought Triple Crown adult slow-pitch softball to Steamboat Springs 26 years ago, starting what would become a consistent summer presence in Routt County - a presence that ends today.
Still, as men's, women's and coed teams flood baseball fields across Steamboat this weekend, it's evident some things haven't changed at all.
King pitched and hit as well as he could Saturday, playing with a team that included his two sons, a son-in-law and several Triple Crown employees. But it was hard to focus sometimes, as the relentless banter he and his team traded with their opponents often caused him to back off the pitcher's mound and bury a wide grin in his shirtsleeve.
They laughed and joked, just as so many of the same players did 26 years ago when they first traveled to Steamboat for softball.
The players also got serious, such as when a questionable call on a tag at first base launched both teams into a brief shouting match. The smiles returned, but just as they did 26 years ago, those on the field wanted to win.
"I don't see any less vigor from the competitors," King said. "The numbers have been six or seven times what they are this weekend. There used to be a lot more variety in talent, but people still like to win when we line them up."
Today marks the final day for Triple Crown's slow-pitch softball tournaments, not just in Steamboat Springs, but anywhere. Slow-pitch softball is a dinosaur, said Phil Small, this weekend's tournament director. The annual pilgrimage to Steamboat is being done in by a shrinking field of teams and a reluctance to travel long distances among those that play still.
"It's disappointing, but the basic reasons are the economy and demographics," Small said. "The demographics part is we're all getting too old and crippled to play. The economics of it is with the cost of putting on a tournament like that and what players and teams are willing to pay anymore, we're not able to pull it off. We lose money."
Sentimental value
Small said slow-pitch softball has been on life support for years, with Triple Crown, the now-massive tournament operating company, taking a loss to keep it afloat.
The company was reluctant to give the tournament up, for sentimental reasons. The slow-pitch tournaments, and particularly the one in Steamboat, were the first stones laid in Triple Crown's foundation. Everything else in the Ft. Collins-based company grew from Steamboat's Fourth of July tournament.
"It's really sad, and it's hard," said Small, who played in the 1983 inaugural event. "It took a lot of years for Dave to say 'I'm giving this up.' He hung on to it even though it hasn't been a moneymaker for us for a long time because of our customer base. Our company was built on slow-pitch softball and slow-pitch softball players."
The tournament's departure from Steamboat won't leave an open week on the ball fields' calendars. Triple Crown will run more fast-pitch softball and baseball tournaments, which have proven to provide more consistent revenue.
That doesn't mean King is resting easy with the decision he made.
He scored a run in the top of the fifth inning Saturday, helping his team build a 9-3 lead, then was on the mound as they nearly gave it all back, the deficit closing to 9-8. Another offensive outburst sent the Triple Crown squad into the next round of the consolation bracket, however, as it won the game, 12-8.
"I had to play this weekend. It was very important to me," said King, who didn't play last year and has only participated sporadically throughout the years. "We have a good bunch with our team. It's real good playing with your family.
"A lot of these people - the other players and coaches - they've been with us a long time on the Fourth of July in Steamboat. I know them. My family knows them. Our staff knows them. It's been emotional."
- To reach Joel Reichenberger, call 871-4253 or e-mail jreichenberger@steamboatpilot.com