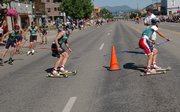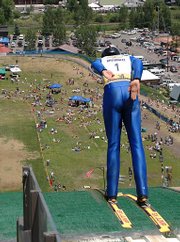 Steamboat Springs — The U.S. men's Nordic combined World Cup B coach Chris Gilbertson has a vision.
He sees plastic ski jumps, like the ones used in Steamboat Springs, filtered throughout the country.
Filtered to places such as Florida, Arizona, Texas and southern California, where young skiers can try the sport of ski jumping without ever having to see Champagne Powder.
"My ultimate goal would be to open a plastic jump in a place that will never see snow," Gilbertson said. "To make it people's first trip to see snow and they have already been jumping."
Certainly the men's Nordic combined team, and ski jumping in general, have been on a hot streak. Bill Demong finished third overall in the World Cup last season, Johnny Spillane has performed well on the biggest stages and Todd Lodwick - one of America's best Nordic combined athletes ever - is prepared to make a comeback.
But the sport's future still begs an age-old question. Will the success of the recent season and prospects of potential medals at the 2010 Olympics in Vancouver ever make the sport popular to the masses in the U.S.?
"It's a matter of getting people out there and seeing it," U.S. Nordic combined A coach Dave Jarrett said. "Watching it on TV doesn't do it justice. It's especially a great time in summer. The more people watch it, the more it will grow as an event."
That's why Jarrett and Gilbertson agree that events such as Friday's third annual Fourth of July Ski Jumping Extravaganza at Howelsen Hill are so good for the sport.
The event - which included a Nordic combined competition and target jumping - brought a substantial crowd to Friday's festivities. Some were from Steamboat and well-versed on ski jumping and the allure it provides. Some were there for the social aspect, and many were out-of-towners seeing ski jumping for the very first time.
"The more summer events we have can give us new spectators," Gilbertson said. "People that come in the winter when there is a World Cup B or A event going on are usually here to ski. They usually pay a lot of money to go skiing."
Huge in Europe
That's where the summer event comes into play. It takes place on one of the biggest weekends during the summer. It's part of all the festivities and it's done in the warm Steamboat summer air as opposed to the frigid depths of a Steamboat winter.
But even Gilbertson admits getting ski jumping or Nordic combined into the public limelight will be a tough ordeal.
If this were Europe, however, it would be a different story.
In Europe, the Nordic combined skiers are America's Peyton Mannings and Tom Bradys. They're the big stars. The coaches are scrutinized like American football coaches on Monday mornings.
"It can be like having 60,000 to 80,000 fans into the same-sized base of Howelsen," Gilbertson said of European crowds. "It's like being a football star over there. There's fan clubs, banners and people follow athletes year round."
But it's the same thing soccer has dealt with for years. How can a sport so widely supported on foreign land almost be an afterthought on American soil?
Undoubtedly, a medal at the 2010 Olympics would help.
"It certainly wouldn't hurt," Jarrett said. "It's not absolutely necessary, but unfortunately, a sport like ours is not on TV. It's essentially a European sport and it might take something like that. People in Houston only pay attention when they see the highlights at the Olympics."
It also may take a rock-star personality to create a sensation similar to Bode Miller's impact on Alpine skiing. There are good stories out there with each Nordic combined athlete - Lodwick's comeback, Spillane's resilience through injuries or Demong's magical season carrying into an Olympic run.
Still, it will be tough for Nordic combined and ski jumping to ever break into the mainstream.
But events such as Friday's Ski Jumping Extravaganza do nothing but help, as athletes and national ski officials strive to have a U.S. jumper stand on the sport's biggest podium in 2010.
"We need to continue to get good results," Jarrett said. "Those results need to be made aware of. It also helps to have colorful guys making those results. Steamboat's absolutely been positive in the support structure for Nordic combined. Two-thirds of the U.S. doesn't have snow at all in the winter. It's hard to expect people to know anything about Alpine skiing. To have a place like Steamboat or Park City or Lake Placid that really embraces the sport is huge. It needs to grow it and get the word out from there."