Fourth of July parade awards
- Child costume ages 6 and under
1. Calvin Zuschlag
2. Tyla Crisp
3. Brisa Karow
- Child costume ages 7 and up
1. Thyme Zuschlag
2. Grace and Caitlin Olinger
3. Bryanna Medina
- Decorated bike
1. Bryanna Medina
2. Navy Karow
3. Thyme Zuschlag
- Best float
1. Van Camp Cabins/Lil' Beaver Liquors
2. Yampa Bible Church
3. Pack 196 Cub Scouts
- Horse and rider
1. Francine Acord
2. Jill Andrews
3. Owen Meyer
- Adult costume
1. Jill Andrews
2. Susan Youngland
3. Francine Acord
- Best group
1. Color Guard
2. The Band
3. FFFA
- Horse-drawn Carriage
1. Pack Country Outfitters
2. Blast From the Past
- Horseless Carriage
1. Bob Baker
2. Bill Voorhees
3. Smoky Werner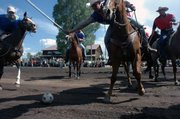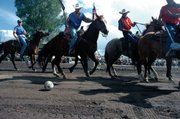 Yampa — The Yampa Marching Band, whose members range in age from 6 to 75, only has one gig each year - performing in the annual Fourth of July parade.
"We just dust off the instruments - it's kind of amazing how good we sound," Fourth of July committee member Arlene Porteus said.
Throughout the afternoon, South Routt youngsters who rode their bikes in the parade tooled around town, their two-wheelers decked out in red, white and blue ribbons and streamers - some bikes still with training wheels, others with signs thanking their local firefighters and emergency medical technicians.
Friday's events kicked off with a "Flapjack Feed" pancake breakfast, which benefited the Soroco High School girls basketball team by helping send them to camp this summer.
In the afternoon, hundreds lined the streets of Yampa for the Fourth of July celebration's "Great American Heroes" parade, led by parade marshal Jerry Teter.
Attendees, both locals and visitors, spent the afternoon socializing and chowing down at the South Routt Elementary School grounds while the children tried their luck at the bean bag relay, egg toss and three-legged race.
"There's a lot of camaraderie here," Phippsburg resident Karen Craig said. "You get to see everyone you haven't seen in years."
Craig, a former fourth-grade teacher at South Routt Elementary School, said it especially was exciting to see all of her former students, many now grown and with families of their own.
After the barbecue beef lunch, the fanfare moved back downtown for horse polo, which Porteus described as a "free-for-all, broomball-style" competition. Yampa's horse polo differs from traditional polo with its Western-style riding and its hay bale goalposts set up in the street.
Riders thundered up and down the street Friday afternoon for the amusement of hundreds of spectators lining the sidewalks in lawn chairs and lounging in the beds of pickups parked along the road. When the ball went out of bounds, children lining the street would race for the ball to kick it back in.
"It's wild," Porteus said.
The Soroco High School Class of 1988 held its 20th reunion Friday, as well, with a special luncheon at the American Legion hall in Yampa. About a dozen of the 29 members of the class were in attendance.
To reach Melinda Dudley, call 871-4203
or e-mail mdudley@steamboatpilot.com