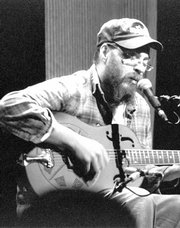 Past Event
Friday, July 4, 2008, 9:30 p.m.
Tap House Sports Grill, 729 Lincoln Ave., Steamboat Springs
Not available / $5
Steamboat Springs — As a teenager, Charlie Parr must have been a sight. While the world around him was discovering rock of the classic and arena varieties, Parr was discovering music that had been dormant for decades - songs that went back to pre-Depression Piedmont blues and folk music recorded in the 1920s.
Loving this music since childhood has infused Parr with an uncommonly personal voice and has allowed him to craft songs that speak to his Smithsonian Folkways music education, his working-class Minnesota upbringing, and his appreciation for the conditions that make the blues possible.
Parr will play his first Fourth of July gig tonight at Tap House. He figures he'll wear something patriotic for the occasion, which also will be the first time he shares a stage with Steamboat-Denver Delta blues-rock duo American Relay.
On the road at the start of a three-week tour, Parr talked to 4 Points about what keeps old music fresh, where he finds subjects for original songs, and how even though things are different now than they were in the 1920s, people have stayed pretty much the same.
4 POINTS: How did you get into this older blues and folk music?
CHARLIE PARR: My father listened to it, and when I was a kid, it was always playing around the house. So when I started playing, I started trying to play like those old recordings.
4 POINTS: What about that kind of music appeals to you?
CP: It's hard to say. It's a real gut thing. It kind of grabs me where nothing else ever reaches. And it's always been that way - I never get tired of it.
There's some music that I listen to that I'm immediately excited by, but then it gets old really fast. But this, I just never get sick of it.
4 POINTS: The themes that come up in these songs, even though they were written before and during the Depression, do you think they're still relevant today?
CP: I definitely think it's still relevant now. I think the problems and whatever faced folks in the '20s and the '30s, even though they were different problems, the reaction to them really isn't that different.
4 POINTS: So what about those old songs, and the kind of songs you sing, gives them that lasting quality?
CP: People wrote in more of a vague way sometimes about situations, and you can bring that into your current life and listen, and they'll still have meaning to you. There are songs about specific things, but even in that framework it's a song about a more general kind of condition of being a human being.
There's a lot of kind of general themes in there that we all have - like the blues, for instance. (There are) feelings like that, that go throughout time and don't really have a reference point to a current event or whatever.
Say you go back and listen to "High Water Everywhere," which is an old Charley Patton song about the Mississippi Flood of 1927. Even though he's talking very specifically about this flood, he's also talking kind of generally about pain and suffering. It's still relevant now. Even though the flood is kind of over, there are other floods now.
4 POINTS: When you're writing songs, where do you get the characters and storylines?
CP: Kind of everywhere, I guess. I'm a real big fan of - I'm not even sure what to call it - but the kind of literature that Raymond Carver and authors like that participated in, just kind of everyday life and no really big, shocking issues.
I'm writing about pretty relatively non-spectacular things. But I spent many, many years working as an outreach worker for a homeless outreach organization, so issues of homelessness tend to seep in.
4 POINTS: For all of that, do you think those topics will keep that same lasting power that these older songs have kept?
CP: I think so. Like I said, there are just some things that are general enough that they'll always have some kind of viability.