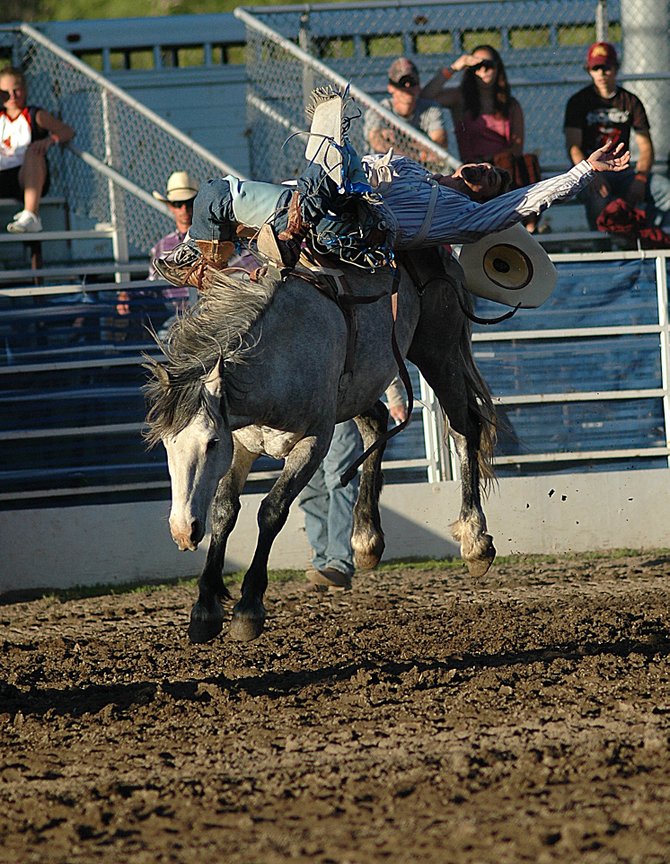 New voice to power rodeo
Shipley out of town; Nebraska man to call tonight's event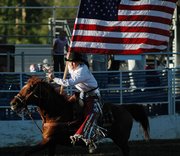 Steamboat Springs — There will still be horses, bulls and the calf scramble. Cowboys again will show up in droves, and fans will fill the bleachers.
But there will be something a little different about this weekend's two performances in the Steamboat Springs Pro Rodeo Series, and that difference goes deeper than just the fact that tonight's rodeo starts 30 minutes earlier than usual, kicking off at 7 p.m.
The series' regular announcer, John Shipley, is out of town to announce a rodeo in Greeley. Pinch-hitting tonight and Saturday at the Brent Romick Rodeo Arena at Howelsen Hill in downtown Steamboat is Travis Schauda of Broken Bow, Neb.
Shipley and Schauda come from different places and have different experiences calling rodeos. But they agreed on one thing: the July 4 edition of the 20-rodeo Steamboat series will be just as action-packed as the rest, only this time with fireworks to cap off the evening.
"I'm really looking forward to it," Schauda said. "Rodeo is probably the most patriotic of all sports."
Schauda, 31, has been announcing rodeos since he was 18 and said he lives to travel the country and hit all the different events.
He comes from a rodeo-savvy family but has never taken much to competition. Instead, his talkative personality makes him a perfect fit in the announcer's booth.
"My grandpa was involved in the sport and so was my mom, so I grew up around it," he said. "A lot of people have always said I really like to talk, so when you combine those, that's how you come up with rodeo announcers."
This will be his first stop at the Steamboat rodeo, and his first trip to town since a childhood vacation.
Visiting for the weekend with his expecting wife and their two children, he said he's ready for a good show. He's worked with this weekend's barrel man, Punkintown the Rodeo Clown, in the past and knows what to expect.
"When we worked together before, we got along really well, so it should go seamlessly," Schauda said of Punkintown. "Each rodeo has its own niches, so you try to blend in with tradition they have there, but each outside announcer will add his flair to it that might be a little different for local fans.
"I try to bring more energy than the average announcer. I want to entertain the veteran fan and inform the rookie."
Shipley and Schauda share more in common than their enthusiasm for rodeo. Each see Independence Day as the perfect day to rope and ride.
"There's not a holiday that's better made for rodeo than the Fourth of July," Shipley said. "Rodeo is the all-American sport, and watching it while celebrating the nation's birthday, being in the American West in a town settled by cowboys - it just all fits."
Fireworks are directly after tonight's show. In addition to the earlier starting time, ticket prices will be higher than usual, with adult prices increasing to $20 and children's prices increasing to $10.
Tickets and times for Saturday's show will return to the series' usual marks. Saturday's show starts at 7:30 p.m. and costs $15 for adults and $8 for children.
- To reach Joel Reichenberger, call 871-4253 or e-mail jreichenberger@steamboatpilot.com