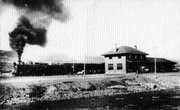 Steamboat Springs — Tread of Pioneers Museum couldn't just build an exhibit about the Moffat Road. It would have been way too much.
"I worked pretty steadily on it for about two months, just compiling information," museum curator Katie Peck said. "There are just books and books."
Instead, the museum's new exhibit focuses on the railroad only as it pertains to Steamboat Springs. The display honors the 100th anniversary of the Moffat Road, which brought the railroad to Routt County.
It's called "Cows, Coal and Commerce: 100 Years of the Moffat Railroad in Steamboat Springs."
The exhibit tells the tale of David Moffat's dream. The banker, gold mine developer and railroad builder financed a significant chunk of the road, taking out a $22.5 million mortgage on his house and putting up $4 million in stocks. He wanted to connect Denver with Salt Lake City, but the railroad leg he pushed for made it only as far as Craig.
In December 1908, the railroad pulled in. In January 1909, it carried its first passengers.
The railroad took strawberries, sheep, cattle, coal and other goods out of Routt County. It brought in tourists.
"I think people think of the railroad as a thing that goes through town," museum Executive Director Candice Lombardo said. "But there was this period of time when it changed history in one fell swoop."
Before the railroad, travelers from Denver to Steamboat typically traveled to Wolcott first and then took a stagecoach here. The second leg of the trip took two days, Peck said.
The exhibit, which opened June 18 and will stay up for a year, includes ice tongs, railroad ties, milk canisters and other tangible artifacts. It also includes maps, tickets and other paper items. The contents came from the Tread of Pioneers collection, local families and the Colorado Railroad Museum. Anyone who wants to lend an item still can do so, the museum staff said.
The display tells of a road that wasn't easy to build or navigate.
The original Moffat Road wound its way over the Continental Divide, topping out at Corona, 11,600 feet above sea level. It navigated through Rollins Pass, chopping through feet of snow to make it across.
Then came the Moffat Tunnel.
Construction of the 6-mile tunnel began in 1923 and took 19 workers' lives. The first train passed through in 1928.
"The Moffat Tunnel was probably one of the biggest feats in American history," Peck said. It cut the trip over the divide by two hours, she said.
The railroad carried its last passengers in 1968. The line still carries coal - and a full load of local history.
"I don't think people really understand the giganticness that the railroad brought," Peck said. "It's kind of an annoyance today - you hear the whistle; you can't cross the road. But it was a huge opportunity. : People don't understand the impact it had on the town."