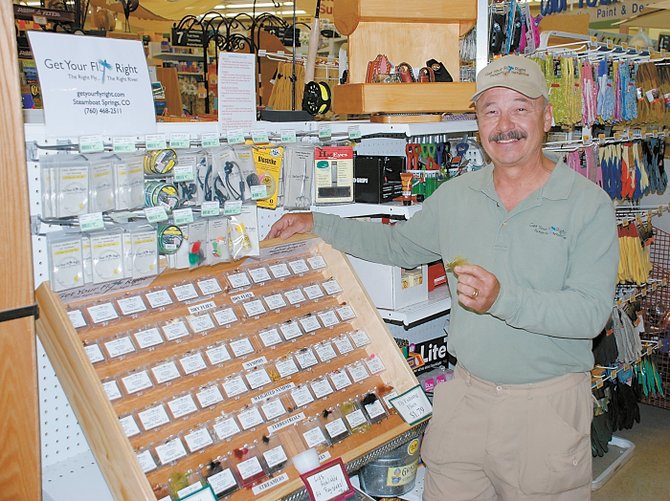 Local refines 'fishy' business
Steamboat man wholesales fishing flies with Get Your Fly Right
Find a fly
- Routt County locations
Steamboat Lake Outfitters
Shop and Hop in Steamboat
Ace at the Curve
Backdoor Sports
The Clark Store
Weston's Corner in Yampa
Steamboat Lake Marina
- Other locations
Shop and Hop in Kremmling
Circle D Foods in Grand Lake
Grand Lake Conoco
Ace Hardware in Meeker
Highway Market in Gypsum
Kremmling Mercantile
Silverthorne True Value
North Park Supers in Walden
Granby Barn Store
True Value in Saratoga, Wyo.
Maybell Store in Moffat County
Steamboat Springs — Steamboat Springs entrepreneur Steve Zamora may have figured out the secret of life.
His business, Get Your Fly Right, requires that he drive across Northern Colorado and Southern Wyoming making sales calls at some of the West's finest trout streams. He keeps four fly rods with leader and fly already attached hanging from the roof of his camper van at all times.
Nice work if you can get it.
Zamora is in the business of wholesaling fishing flies to retailers. But his 18 accounts don't represent the usual suspects. Instead of marketing his mayfly patterns and streamers to specialty fly-fishing and sporting goods shops, he targets businesses that sell his products as a sideline. They include hardware stores, marinas, independent groceries and convenience stores.
"I'm trying to keep my sales route small enough where I can travel around and fish, and take care of these businesses," Zamora said. "With the cost of gas, I'm looking for new clients who are already on the way to one of my existing customers."
Debby Rudolph, manager at Weston's Corner in Yampa, said Zamora's flies are selling well for her.
"He made us a custom display and didn't charge us. Everything is really well marked, and he gives us good prices so I can sell all the flies for the same price," Rudolph said. "I really don't have to do much."
All of Zamora's accounts have one thing in common: They are all close to premium fishing lakes and rivers such as the Yampa, Eagle, Colorado and North Platte, where it is inevitable that destination fly fishers will walk through the doors in substantial numbers. The flies and related tackle that Zamora sells to independent grocers capture cash flow over and above what the proprietor would otherwise collect.
Zamora and his wife, Judi, returned to Steamboat in 2002 after 12 years in San Diego. They coached the city Parks, Open Space and Recreational Services Department gymnastics program from the mid-1970s until 1990 and formerly operated Mountain Pets retail store.
Get Your Fly Right has significant competition from a well-established business based in Jackson, Wyo., that has accounts throughout the West. Zamora said he has been able to compete by being more flexible and by customizing his fly patterns specifically to the fishing waters that are in the neighborhood of each retailer.
He is an avid fisherman with the knowledge to hand select fly patterns he knows will work on the river closest to the store. He even goes as far as tailoring the selection of flies at any given time according to the seasonal changes in the hatches of aquatic insects that influence the feeding behavior of trout.
"The stores sell more flies because I come by every two or three weeks to restock and adjust the patterns for the season," he said.
Zamora imports the flies directly from an African producer who is willing to custom-tie the flies to Zamora's specifications.
He allows the stores to set the retail price (usually a little below flies in specialty shops). However, he makes life easier for himself and his accounts by charging the same wholesale price of $1.79 for every fly in his inventory, even though his cost varies from fly pattern to fly pattern.
In addition to flies, Zamora wisely offers a variety of the small accessories all fly fishermen need: tippet nippers, hemostats for hook removal, nets and even an all-inclusive rod and reel package with the tapered leader already attached to the line so customers can begin fishing within minutes of leaving the store.
Learn more at getyourflyright.com.