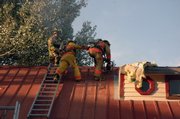 Steamboat Springs — Steamboat Springs Fire Rescue helped give the Library House a head start on its impending demolition, using the structure for ventilation training Wednesday night.
As construction at the Bud Werner Memorial Library continues, the Library House will be demolished and its footprint will be added to Little Toots Park and open space surrounding the library buildings, Library Director Chris Painter said.
The otherwise calm summer evening Wednesday was punctuated by shattering glass, chainsaws and the occasional triumphant "whoo-hoo" when a particularly stubborn window frame made its axe-induced exit from the property. The spectacle attracted its share of spectators on Lincoln Avenue and in Little Toots Park.
"We can talk all day about breaking windows, and breaking down doors, and cutting into the roof with an ax," training coordinator Bobby Davis said. "But there's nothing like actually doing it."
Full-time and reserve firefighters took place in Wednesday's training, along with trainees in the department's fire academy, practicing techniques for ventilating buildings during structure fires. The department has formal training exercises twice a month, Steamboat Springs Fire Rescue public education coordinator Debbi Funston said.
One team spent its evening on the roof, the other inside working on search and rescue techniques and ventilating through windows and doors.
"They're in there breaching walls, so that if you get stuck somewhere, you can get to another room," Assistant Fire Chief Bob Struble said.
Training opportunities with real structures such as the Library House are rare for Steamboat Springs Fire Rescue, occurring maybe twice a year, Struble said. However, all the construction going on is providing ample opportunities. Fire departments across Routt County will be able to do large-scale exercises in late July and early August as Ski Time Square and Thunderhead Lodge are demolished, Struble said.
The city acquired the Library House and the property it sits on in 2007 in a land-swap with the Bud Werner Memorial Library, Painter said. The library purchased the property from the Lockhart family in 2003, and traded it to the city in return for the parcel where the library's expansion currently is being built.
The building, which had been used extensively by the library in recent years for meetings, storage and additional work space, was in poor condition for its age and the Historic Preservation Advisory Commission gave the OK for its demolition, Painter said.