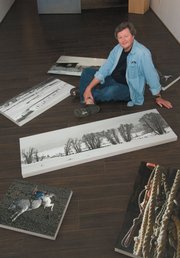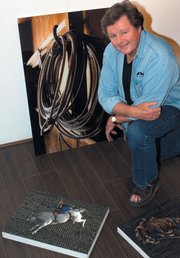 Past Event
Friday, July 4, 2008, 5 p.m. to 8 p.m.
K. Saari Gallery, 837 Lincoln Ave., Steamboat, CO
Not available / Free
Steamboat Springs — Flipping through his book of rodeo photography, Frederick Hodder lights up when he gets to cowboys in peril.
"This guy, he's in real trouble," he said with a smile, nodding to an image of a man moments away from losing his grip on a bucking bronco. Hodder, who splits his time between Steamboat Springs and London, has developed an eye for the raw energy of the ranching lifestyle since he moved to Routt County a few years ago. "Colorado Images," a collection of Hodder's still life, action and landscape photography, opens with a reception from 5 to 8 p.m. today at K. Saari Gallery.
"About five years ago, I began coming to Steamboat Springs," Hodder said about finding his way to a focus on Colorado. "At first, I didn't kind of appreciate it, but I started to really understand the Western way of life. And not only was it beautiful, but I loved the kind of raw energy of the ranching life."
To the extent that it's possible, Hodder hopes his photography inspires people to preserve the way of life he was introduced to growing up in Wyoming and has grown fond of more recently in Routt County.
"I really think that there is such natural beauty and history here in the ranchlands, and it's great fun to try to capture that so people can experience it," Hodder said.
"And the bitter, crisp cold is kind of gripping. I think also the harshness of the ranch life gives an emotional side to the rivers and the fences and the trucks and the barns. There's a rawness to surviving in the elements here that I like," he said.
At first glance, what Hodder does with a camera is not especially contemporary. But he's found ways to make still images and ranch scenes feel new, mounting them on aluminum behind Plexiglas, or coating them with a thin layer of encaustic wax.
"It gives you a really immediate sensation of the image," he said about using the aluminum method for standout still lifes.
Gallery owner Kimberly Saari said Hodder's work takes standard images of the Yampa Valley and gives them a contemporary feel.
"Everybody has this concept of what it is to do Western art. But he does this Western work, and then he adds a twist to it," Saari said.
Hodder's photography is on display at K. Saari Gallery through the end of the month.