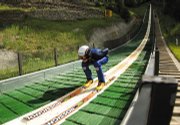 Past Event
Thursday, July 3, 2008, 10:30 a.m.
Howelsen Hill, 845 Howelsen Parkway, Steamboat Springs
All ages / Free
Steamboat Springs — Locals and visitors have a chance to watch five national teams and a number of up-and-coming ski jumpers Friday at Howelsen Hill.
And in a seasonal twist, the chance to see ski jumpers fly will take place in 80-degree weather instead of the traditional cold and snowy conditions.
Today through Friday, Steamboat Springs plays host to the third annual Fourth of July Ski Jumping Extravaganza.
Local members from the Steamboat Springs Winter Sports Club, members of the U.S. men's Nordic combined team and women's special jumping team will take part. The Canadian women's and men's special jumping teams and the men's Nordic combined team also will take part.
"We think we'll have in the neighborhood of 80 jumpers," said Todd Wilson, Nordic director for the Steamboat Springs Winter Sports Club. "It's not doubling in size or anything, but it's one of the premier places to be in our sport on the Fourth of July."
The event begins today with qualifying jumps at 10:30 a.m. The top 36 jumpers advance to Friday's special jumping target event.
There also will be a combined event, in which skiers will skate ski a 2-kilometer course on Lincoln Avenue at 9:30 a.m. Friday. They will then move to Howelsen Hill and take their first round of jumps starting at 12:30 p.m.
In the target jump format, there are no judges. Instead, a specific target is set, and jumpers decide where they want to start from to hit the target.
"What's cool about this is some of our juniors in the club will be able to compete with the national teams," Wilson said.
Wilson said with all of the activities in town, a big crowd is expected at Howelsen. He encouraged spectators to bring blankets and lawn chairs, as there is limited seating at the community ski hill.
"The coaches over here have been dreaming of doing a Fourth of July event. It's been on our radar for a lot of years," said Wilson, who said the event will have a World Cup-like feel with the crowd. "We're excited about it. It's such a great thing in the wintertime, but it's very unique to do this in summertime."
- To reach Luke Graham, call 871-4229
or e-mail lgraham@steamboatpilot.com