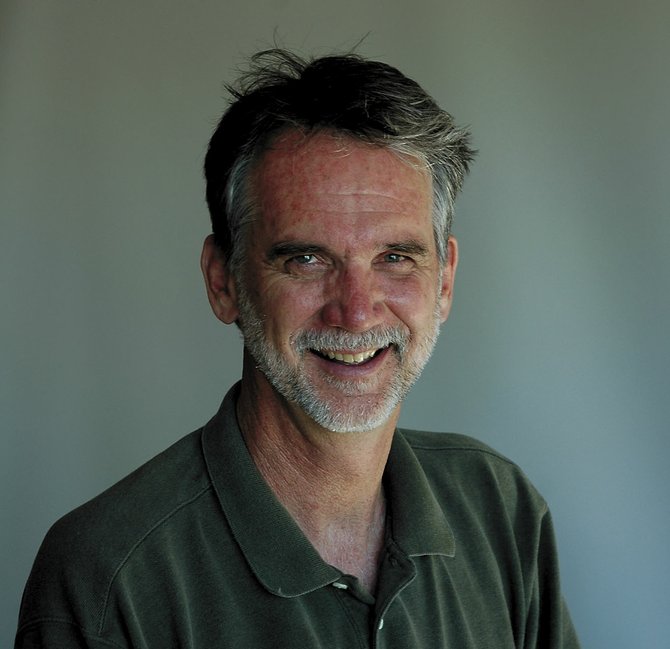 Tom Ross: Only in America
Feel-good freebies make garage sale worthwhile
Explore Steamboat
And find what you are looking for
Tom Ross
Tom Ross' column appears Tuesdays and Saturdays in Steamboat Today. Contact him at 970-871-4205 or tross@SteamboatToday.com.
Find more columns by Tom here.
Steamboat Springs — The first customer to arrive at my garage sale on Saturday rolled up in a skid steer loader, more commonly known by the familiar trade name of Bobcat.
The driver leaned out of his safety enclosure to peer at the junk stacked neatly in my driveway and put the sexy little earth-moving machine in park.
The man walked over to me, eyed a phalanx of yard tools and said, "How much for everything?" We countered each other's first offers, made a deal, shook hands and he drove off with my rake, an old shovel, a pitchfork and a pick axe leaning out of the bucket of the skid steer.
I couldn't help but wonder, "Is he off to the next garage sale in that thing? And if so, what kind of mileage does he get in a skid steer?"
The weekend marked the first garage sale I have hosted in 20 years of home ownership. I've always been fascinated by the sociological aspects of garage sales, but I've been a little hesitant to put my unwanted stuff out on the street for strangers to paw through.
I knew I was in for an interesting day at first light Saturday, when, bleary-eyed, I pulled up just around the corner from the intersection of Whistler and Walton Creek roads. My plan was innocent enough; I simply intended to duct tape a garage sale sign to the pole of a city street sign (no doubt a code violation in and of itself - but hey, I'm a garage sale rebel without a cause).
Before I could tape my sign, my attention was diverted by the sight of a tall young man standing in the middle of the intersection with a troubled look on his face.
"Please, where is Hilltop?" he inquired in halting but clear English.
"Nowhere near here," I responded.
"I need to go to my job. Can you take me there?"
"No, I'm sorry, my wife is counting on me to put up these garage sale signs."
He gave me a quizzical look.
"I will give you $20."
"Sorry. It's not about money."
Another quizzical look.
"Will you call me a taxi?"
"All right sir, you're a taxi." (I didn't really say that, but I was tempted.)
Truthfully, something came over me, and I relented.
"Hop in," I said. "I'll take you there."
As it turned out, my new 20-year-old friend had just arrived in Steamboat the night before from the Ukraine via Denver. His buddies still were asleep in the condo and he had no idea how to get to his new job as a houseman. All he knew was that he had 30 minutes to get there. And he was desperate to make a good first impression in America.
Uplifted by my good deed, I returned to my driveway, determined to give things away, or at least cut people some super deals.
I gave away four snow tires with rusted studs that would have cost me money to drop off at the tire store.
I drastically cut the price on a quality youth bicycle so that a girl who'd had hers stolen the previous week could take it home. I gave away another bicycle that belonged to my neighbors. That felt especially good.
I tried to give away a perfectly good bowling ball that my son had brought home from another garage sale. But someone rolled it into the weeds in the bar ditch in front of my home when my back was turned. It's still there.
I let the father of four sons take away a perfectly good Game Gear player with five game cartridges for $12. He was really happy.
I was stunned that no one made an offer on my seldom-used Santa Claus suit, complete with a snow white beard. You dads out there blew a great opportunity. There's going to be a price increase come November.
When it came down to the bitter end, we put three fairly ratty upholstered dining chairs on the street with a "Free" sign propped against them. They magically disappeared. I was happy, but not as grateful as my dinner guests will be when they come over and see that the tomato red chairs are long gone.
Somehow, amidst all of that freewheeling, we netted $160 on Saturday.
What a country!