Students take center stage
Annual high school dance showcase opens Thursday
Wednesday, January 30, 2008
Past Event
Thursday, January 31, 2008, 7 p.m. to 10 p.m.
Steamboat Springs High School, 45 Maple St., Steamboat Springs
Not available / $8 - $12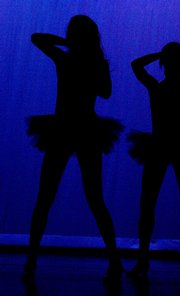 Steamboat Springs — With little rehearsal time left until opening night of the 12th annual Steamboat Springs High School Dance Showcase, faculty adviser Kelly Erickson had some advice Monday for the 60 students participating in this year's concert.
"It's time to start dancing exactly as you're going to be performing," Erickson said after calming the flurry of costume changes, choreography cleanups and technical questions that have to be answered for Thursday night's showcase opening.
"It's definitely getting stressful down to the last minute," said Alex Morrison, a senior who is working with another producer and two directors to put on the eclectic performance. With 16 dances ranging from a country western group number to hip-hop and lyrical routines, the days leading up to opening night can be hectic.
"I think that people are going to be impressed with the quality of dances and how it has come together," Morrison said. "The theme of the show is 'Unpredictable,' and with the variety of dances, I think we've lived up to that."
Morrison said producers and directors have tightened their control on the showcase while maintaining the unpredictable theme. That has meant renting lights to enhance the visual aspect, supervising everything to make the show more community-friendly, and putting in what Morrison estimated was about 17 hours of technology work on the weekend before opening night.
Everything about the show is organized at the high school level. In the months leading up to the show, dancers did their own choreography and rehearsing. The lights, sound and other technical aspects are student-managed.
Directors are responsible for overseeing choreography, running rehearsals and making sure preparation goes smoothly until the curtain rises. Producers handle fundraising, accounting and advertising.
As for the stress resulting from all that responsibility, Morrison went back to the show's "Unpredictable" title.
"The theme of the show pretty much says it all," she said.
- To reach Margaret Hair, call 871-4204
or e-mail mhair@steamboatpilot.com.