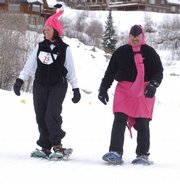 Steamboat Springs — About 110 people turned out in their penguin suits - some literally - for the "Black Tie Affair"-themed, seventh annual Colorado Ski for Women 5K on Sunday.
Classic skiers, skate skiers and snowshoers of all ages showed up in everything from tuxedos to bridesmaid dresses to penguin suits at the Steamboat Ski Touring Center, as participants gathered to support Advocates Against Battering and Abuse.
Birgitta Lindgren, who owns the Ski Touring Center and outfitted her nine staff members in full-body, hand-sewn penguin outfits, said she got the idea for the fundraiser from a friend in Alaska.
"I thought, what a great way that I can put something back into the community, get people out here skiing, and have a fun event for a great cause," Lindgren said.
Sheila Wright, who showed up wearing a tiara and a lavender bridesmaid dress layered over a ski suit, said she has attended the event in past years.
"It's just a good opportunity to dress up and have fun, and to draw attention to not such a fun cause," Wright said.
To counter black-and-white bird costumes from the extreme northern and southern latitudes, Mark and Vivian Payne said they dressed as pink flamingos to represent the tropical climates.
"It's just a great cause to get out and have some fun," Mark Payne said of the event. "You wish you never needed an organization like this, but thank god it's there when you need it."
Proceeds from the event, which included about $2,700 from donations and additional funds from a silent auction, will go toward maintaining the Advocates shelter and establishing a supervised and safe visitation program in Routt County.
Advocates Executive Director Diane Moore said the visitation program would supply a neutral, safe location for children and families that might be in high-conflict situations to have visits.