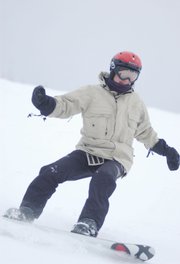 Steamboat Springs — When Sherman Poppen, the man widely credited with inventing the snowboard, heard that longtime friend Harold Fischel had likely taken over Poppen's title as the oldest snowboarder on Mount Werner, Poppen had to laugh.
"Hal has been telling me he can't wait for me to die so he can be the oldest rider," Poppen joked on the phone last week. Poppen is taking this season off for medical reasons.
In 1965, Poppen bound two skis together, attached a string to the front, dubbed it the "Snurfer" and sent his daughter sliding down a hill on it.
Skip ahead four decades - years that saw a toy contract for Poppen with the Brunswick Corporation that sold tens of thousands of Snurfers, a series of innovations by a kid named Burton, countless gear advancements and a boom in popularity - and you get a 73-year-old Fischel, standing at the base of the Steamboat Ski Area gondola with a red helmet on his head and a board in his hand.
Fischel has been snowboarding for a little more than a decade. He started partially because his children were snowboarders.
"At age 60, I took a couple of lessons and fooled around and got the hang of it," he said.
Fear of falling
Working his way through tight strands of trees on secluded Steamboat trails, Fischel could blend in with much younger boarders. He rides every day, and maintains that he can keep up with just about anyone, anywhere. For the most part, though, he recreates with people older than 40.
"We do trees with younger guys, and I keep up pretty good. Being of my age, I don't do what the kids do," Fischel said, pointing out that his attempts at terrain parks and halfpipes haven't gone so well.
He said working up the motivation to get on a snowboard was a matter of wanting to try something new.
"I plateaued out on skiing. I started when I was 21 and went until 60. And around 40, I never got any better. I was good, but it was time for something else," Fischel said.
"The better you are, the less inclined you are to start all over again. You say to yourself, 'I'm an expert skier. I don't want to go through all this.' And you can get hurt," he said.
It's getting over that fear that is the biggest obstacle for beginning snowboarders older than the age of 40, said Steamboat Ski and Snowboard School supervisor Bec Marbach.
"It's the fear of falling. And it's often the first time they've strapped both feet in to a piece of sports equipment," Marbach said, adding that most veteran skiers aren't used to facing sideways.
As more parents see their children learning to snowboard, Marbach said Snowboard School enrollment for people in their 40s and 50s has skyrocketed.
"A lot of our group lessons are as full of that age group as much as they are with teens. It's pretty much half and half," she said.
And while beginning snowboarders near Fischel's age are rare, Marbach said they are more common now than 10 years ago. National statistics overwhelmingly show snowboarders on average to be young. The National Ski & Snowboard Retailers Association reported in 2006 that 76 percent of snowboarders were age 24 or younger.
"That 70-years-plus, it used to be like a blue moon that you'd see people that old. But now, more people are turning out and wanting to give it a go," she said.
Those punk kids
He might be able to smoke past two 20-something reporters on the mountain, but there are some notable differences between Fischel and the stereotypical snowboarder.
"I'm out of that scene. When I read the snowboard magazines, I don't have a clue what they're talking about," he said.
"I am of a different generation. Many of those kids could be my grandkids," Fischel said. "And I don't dress that way. But of course all my one-piece suits are hanging in the closet, because nobody wears a one-piece suit."
No one will see Fischel riding in a paisley-print, extra-large boarder's ensemble any time soon, but he does admit to buying his clothes one size bigger than he would for skiing.
"There's something sensible about the way they dress," he said. "Baggy is good, because you can sit down when you get tired and talk to your buddies."
Noting that he has seen about as many boarders on the mountain this year as skiers, Fischel said he does see the occasional prejudice. Those assumptions usually don't last long.
"In Vermont, I was getting off the lift on a snowboard with skiers I didn't know, and I bumped into the guy's ski. Out of courtesy I said, 'Excuse me,' and he looked up and I could tell he was thinking, 'How strange for a snowboarder to be so polite,'" Fischel said. "He saw the gray hair and understood."
On the phone at his winter home in Steamboat, Fischel presses the hold button to answer a call from friends. They want to go riding. He comes back on the line with a time set to head to the mountain.
"It's interesting, I never know how long I can still endure this," Fischel said, adding that his father, who wasn't particularly athletic, lived to be 104.
"But I'm healthy, and I encourage people who are older to take it up."