On mountain
Congestion doesn't disappear once skiers and snowboarders leave their cars, and Ski Corp. officials say they also are looking at ways to improve out-of-base mobility - i.e., getting skiers and riders from the base area and dispersed up onto the ski mountain. The new Christie Peak Express six-person chairlift was intended for just that purpose, and Doug Allen, Ski Corp.'s vice president of mountain operations, said the lift is doing its job.
"We went through the Christmas holiday period, and we didn't overload the gondola," Allen said. "We use to overflow the gondola maze periodically through the holiday season."
Electrical problems one Sunday after the holidays resulted in a gondola-maze overflow, Allen acknowledged, but he said such problems are rare and believes the malfunction shows how vital the lift is to out-of-base mobility.
"That's a good measure that it works," Allen said. "It is a good measure of how effective it's been."
Besides mechanical malfunctions, there have been other growing pains with Christie Peak Express, including the struggle to efficiently load small children onto the lift. Allen said tweaks - such as working with ski and snowboard instructors, reorganizing the maze and changing the way singles are introduced to the lift - have been used to address such problems.
"You can't expect to bring in a new piece of equipment like that and expect it to work perfectly on the first day," Allen said. "It is still a work in progress."
Additional out-of-base lifts could be introduced as early as 2010, Allen said.
"We are beginning to update our master plan, which would introduce additional out-of-base capacity, which would mean more lifts," he said. "With the rate of growth we've been seeing in the community, we need to update that plan to accommodate that growth."
Allen said Ski Corp.'s current master plan, completed in 2004, already is somewhat out of date because the rate of growth in Steamboat has exceeded expectations. With the update scheduled for completion this summer, however, Allen said the resort will be well prepared to confront it.
"By the time these new beds are online, we'll have more lifts online and increased out-of-base capacity," Allen said.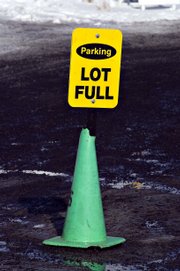 Steamboat Springs — Redevelopment projects at the base of the Steamboat Ski Area have created some headaches for skiers and riders this season, from maxed-out base area parking to general roadway congestion. Some officials say the real challenges are yet to come.
Base area mobility and parking will face a number of hurdles in coming years. A glut of high-density development will be constructed and completed in the next decade, from projects such as Edgemont and phase two of The Porches, to the redevelopment of Ski Time Square and Thunderhead Lodge, which will quadruple the existing size of those properties.
City area plans and a recently completed mobility study all anticipate the imminent redevelopment of sites such as the Knoll parking lot, the Ski Time Square parking structure and the Gondola Transit Center parking structure - facilities that account for 41 percent of the current skier parking available at the base area, according to a May 2006 U.S. Forest Service report entitled "Environmental Assessment of Proposed Improvements at Steamboat Ski Area." The Steamboat Ski Area operates on land leased from the Forest Service.
John Eastman, planning services manager for the city of Steamboat Springs, says the parking and congestion issues of the current ski season aren't out of the norm. He's more concerned about what could happen in future years.
"I don't think it's really changed that much," said Eastman, who attributed most traffic problems this season to larger-than-average snowbanks that are encroaching on limited parking spaces and roadways. "But it definitely has the potential to get worse unless we do it right."
Like Eastman, Andy Wirth is more worried about the future than the present.
"In the short term, we are really confident in our plan to deal with high-demand days," said Wirth, chief marketing officer for Steamboat Ski & Resort Corp. and its parent company, Intrawest. "In the coming years, we're going to be more and more challenged as development comes into the valley."
Wirth says Ski Corp. plans to ask the city for a temporary permit to allow an additional 300 parking spaces - beginning in the 2008-09 ski season - at the Meadows lot.
He also said a number of factors combined on the afternoon of Jan. 12 to force skiers and riders to park at Central Park Plaza and be shuttled to Gondola Square. Problems that day weren't because of the loss of 150 spaces in the Knoll lot due to the presence of a temporary concert tent, Wirth said, but rather because there is no more overflow parking at the Meadows lot. Those extra spaces went away when American Skiing Co., the former owner of the ski area, sold the land to the developers of Wildhorse Meadows.
Wirth acknowledged that bigger-picture solutions are needed to address parking and traffic flow in the long term, and he says Ski Corp. officials are ahead of the curve. Ski Corp.'s plans for the future likely will be spelled out in an update to the ski area's master plan, expected to be completed this summer.
"We have seen this coming," Wirth said.
Solutions
A number of steps to address congestion already are in the works. The city's mobility study notes that, as part of the Wildhorse Meadows development, a 500-passenger-an-hour gondola is planned. Eastman said a gondola of that capacity wouldn't replace the shuttles operating between the Meadows lot and the Gondola Transit Center to any great degree.
Ski Corp. is in discussions with Wildhorse developers to partner in a higher-capacity gondola (3,000 people an hour) that could offset the existing shuttle service from the Meadows lot. If its negotiations with Wildhorse Meadows fail, Ski Corp. could add its own gondola, parallel to the Wildhorse one, from the Meadows lot to the Gondola Transit Center.
Another very real possibility is an enhancement to the Meadows lot itself.
"We're expecting some time in the future a proposal for structured parking down at the Meadows lot," Eastman said.
The city's Public Works Department also plans to hire a traffic consultant to create a traffic model for the base area and each intersection. New developments will be plugged into the model to show their effects and to guide decision making.
But even if all these measures pan out, the days of free skier parking may be numbered in Steamboat.
There's really no such thing as free parking anyway, Eastman said, it's just a matter of who's paying for it. In the case of the base area, the unique, dense and attractive pedestrian district the city would like to create suffers from the existence of wide swaths of surface parking.
"Maintaining free parking in that situation makes it difficult and, in fact, is counterproductive," Eastman said.
Wirth said coming up with a solution to future parking issues will necessitate involvement from Ski Corp., other private developers at the base area, and the city.
"When we approach these kinds of matters, we approach them comprehensively," Wirth said. "What we're talking about are solutions that are financially substantial."
Wirth said the discussions with Wildhorse are progressing nicely, but he offered no specifics. He did, however, acknowledge the possibility of pay parking in the future.
"We're looking at it," Wirth said. "We're looking at all the different options. : We're very much aware of this, but it's still really early to settle on one option."
Short-term commercial parking won't be affected to the degree skier parking might. All new developments at the base area are required to provide parking for homeowners and retail patrons.
"We're going to see a lot more of what we have at the Torian (Plum Plaza) lot," Eastman said. "You're going to have multiple underground parking structures. They're all going to have a free commercial component. In that area, I don't think it's that much of a problem."
Changing behavior
In noting the possibility of pay parking, Wirth said the biggest issue for Ski Corp. and nearby developers is finding a way to reduce the number of people who come to the mountain by themselves in private vehicles.
"We have a great number of people who are going into our parking environment one person per vehicle," Wirth said. "This is something we're going to have to look at as a community. This goes beyond the Ski Corp."
If Ski. Corp. institutes pay parking, Wirth said high-occupancy vehicles may be given a discount or allowed to park for free.
In its area plans, the city has laid out a goal of promoting "the use of alternative modes of transportation by both locals and tourists." It's a more lofty goal than it sounds, Eastman said, and it's not as easy as buying a few more buses.
"The key is making the transit system function better than the automobile," Eastman said. "People aren't going to take the bus when getting in a car is easier. People are smart consumers."
Pay parking would discourage traveling to the ski area in a private vehicle, but Eastman said steps could be taken to not just make private travel unattractive, but also make public transit an enjoyable alternative. He rattled off a number of steps adopted by other communities, such as special lanes that allow buses to bypass traffic, the use of hybrid buses, variable message boards at bus stops that say how far away the next bus is and partnering with private businesses to offer employees financial benefits for carpooling or giving up their free parking spot.
Such steps would require not only a change in public behavior, but a shift in municipal philosophy.
"We've been focusing our resources and our expenditures for the benefit of automobiles and not for the benefit of pedestrians and transit users," Eastman said. "We need to find mobility solutions rather than traffic solutions. : When you do that, you get really unique and interesting places. But there's got to be a real strong commitment, and that means money."