Past Event
Tuesday, January 29, 2008, 7 p.m. to 8:30 p.m.
Steamboat Christian Center, 821 Dougherty Rd, Steamboat Springs
Not available / $25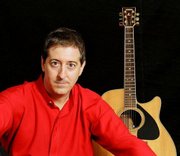 In his long-spanning career as a composer, guitarist, film scorer and performer, Christopher Caliendo has written a lot of music, played for a lot of audiences and won a lot of recognition.
Not all of it was anticipated. On the phone from Los Angeles to preview his Tuesday night concert in Steamboat Springs, Caliendo tells a story that starts on a plane to Italy in the early 1990s and ends in two musical commissions from Pope John Paul II.
"I was wide awake on this plane. I used to compose the music to the television show 'Dallas,' and I was listening to it on my Walkman - this was 1991 by the way," Caliendo said.
A man came up behind him and asked what he was listening to.
"He started to talk very loudly, which people do when they put headphones on, and he said, 'I'm going to make you famous.' I've lived in Hollywood all my life, so I'd heard that from a lot of people," Caliendo said.
Turns out, this time it was worth listening. When Caliendo met up with the man in Rome a few days later, he was introduced to the head of commissions for sculpture, art and music for the Vatican. By the next March, Caliendo was the first American to compose music for the Pope, for the "Encounters of Sacred Contemporary Music" festival.
Since then, Caliendo has taken to world folk music, including the "American gypsy and American tango" works he'll perform as part of a trio in a Tuesday night concert at the Steamboat Christian Center. The 7 p.m. performance is part of a series of concerts leading up to the 2008 Strings in the Mountains season.
Caliendo said his guitar, flute and cello trio will meld traditional tango or gypsy music from South American, India, Africa and Europe with American jazz to create a unique musical fusion.
"America as a country is built on an amalgamation, a synthesis of culture," Caliendo said.
Attributing his attraction to folk music to his Italian roots, Caliendo said he has been interested in peasant dance music from world cultures for about 15 years.
"Dance music, peasant music, ethnic music is not new to us. Even when you look at classical music, which I have three degrees in, much of the classical music is based in folk music," he said.
Tuesday's concert will feature selections from the composer's new CD, "Caliendo World Music Hits."