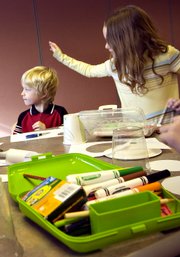 Steamboat Springs — The activities board at the Doak Walker Care Center is filled from sunrise to sundown, but the event that's most special to resident June Hamer is the weekly visit from Strawberry Park Elementary School students.
"It's hard to be away from family, but I love so much being around these kids," said Hamer, 90, who was one of 10 residents visited by Lisa Scoppa's second-grade class Wednesday.
Each of Strawberry Park's second-grade classes visits with residents for one hour, once a month. The students participate in arts and craft activities, but more importantly, they share their youthful enthusiasm with residents.
"I just let them create on their own and let their creativity come out in the crafts. They are very talented," Hamer said as she watched a group of students decorate cardboard snowmen. "I sit back and enjoy their energy and watch them draw. They are very polite and they listen to me."
Kathy Ulmer, Doak's community life recreation assistant, said bringing children, pets and plants into the care center provides the residents with a sense of home and family. She added that the students often benefit as much from the experience as the residents.
"Just like many residents don't get to see their family, some of the students don't get to see their grandparents very often," she said.
Nick Cosik, 8, said one of the residents reminds him of his grandfather.
"It's fun to see old people and help them have fun," he said.
Marty St. Pierre, 7, rushed into the activities room when the students arrived and jumped for the nearest seat next to 73-year-old Bettie Pierce, who gives students a handcrafted bookmark each week.
"I like visiting because we make things for them and whoever sits at this table gets a bookmark," Marty said. "I like helping them make things, too, and I like visiting because it is fun. You can tell them stuff and they listen."
As the students filed out of the activities room, waving goodbye to their friends until their next visit, Marty made sure his snowman would be hanging on Pierce's door.
"This goes on room 14's door," he told Ulmer. "Make sure it goes on her door, because I made it special for her."