Photo Gallery
34th Annual Bud Light Cowboy Downhill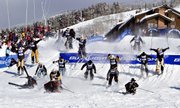 34th Annual Bud Light Cowboy Downhill results
DUAL SLALOM RACE
Name From Time*
Ray Thurston Tabernash 25.63
Shawn Hogg Odessa, Texas 27.90
Jake Griffin Powell, Wyo. 28.51
Dustin Mulrony Pomeroy, Wash. 28.67
Evan Jayne Marseille, France 28.81
Tyrel Nelson Cheyenne, Wyo. 30.29
Jed Moore Cheyenne, Wyo. 30.31
Clovis Crane Lebanon, Pa. 30.69
Lee Graves Calgary, Alberta 31.22
Dean Wadsworth Ozona, Texas 31.73
Stampede Title: Shawn Hogg, Odessa, Texas
Best Wreck: Katie Hill, Miss Rodeo Arizona
*Time in seconds
Steamboat Springs — Tim Kitching and Bruce Hill were so taken by the Cowboy Downhill last year that they went out of their way to see it again.
"We're in Breckenridge (on vacation) this year, so we hired a car and came up for the 34th Cowboy Downhill," said Kitching, of London. "Seven thousand miles for the Champagne Powder and the Cowboy Downhill - and the Fat Tire."
Hill, of Inverness, Scotland, also fancies the curious Steamboat staple.
"I love the way they have no fear - either no fear or no brains," Hill said of the cowboys. "Every single one of them collapses at the first jump."
As one of few cowboys who wasn't strapping on a pair of skis or a snowboard for the first time Tuesday, Ray Thurston might take issue with Hill's comment. Thurston, a bull rider from Tabernash, is a former J3 Junior Olympic Alpine racer and champion of the 2007 Cowboy Downhill. He stayed upright throughout a swift run in the dual slalom race and became a two-time champion with a time of 25.63 seconds.
But shortly before that performance, two of Thurston's friends said that when it comes to the Cowboy Downhill, people like him are the exception, not the rule.
"We're the crowd pleasers," Dusty Shipp said of himself and Jeremy Sparks, who are both from Wyoming. "We crash a lot."
"Me and Dusty, we're the epitome of this thing," added Sparks, who guessed about 5 percent of the event's 70 cowboys were capable skiers or snowboarders. "They need to have two sections: one for pros and one for bros."
The dual slalom race won by Thurston was followed by the Cowboy Downhill's most crowd-pleasing event: a mass-start stampede pitting all the cowboys against each other in a chaotic race down Stampede. Shawn Hogg, a bull rider from Odessa, Texas, won that event.
The course for both events is accentuated by a large jump in the middle that claimed more than a few rookie skiers and riders, including Miss Rodeo Arizona, Katie Hill, who won the title for best wreck. It was only her second time in a pair of skis.
It also was Texan Jerod Johnston's second time on skis. His first time was Monday. After a less-than-graceful showing in the dual slalom race, Johnston was happy with his performance considering how new he is to the sport.
"I wiped out pretty good," Johnston said. "I was nervous as hell, but I impressed myself."
With all the crashes that took place Tuesday, numbing influences were welcome. Bud Light sponsored the event, and it didn't take much effort to get plenty of frosty beers into the hands of competitors.
The Cowboy Downhill is scheduled to coincide with the National Western Stock Show and Rodeo in Denver each year. In addition to being a member of the Professional Rodeo Cowboys Association or the Professional Bull Riders Association, participants must be entered at the stock show.
In addition to these requirements, participants must wear chaps and cowboy hats. Some additional cowboy flair was thrown into the dual slalom race. Once through the course, racers had to lasso a Steamboat Ambassador and saddle a horse before crossing the finish line. Cowboys loosely followed those requirements, with most simply throwing a rope at the ambassador and a saddle at the horse in a mad dash for the finish.
As one participant told a Cowboy Downhill announcer after his race, "If you ain't cheating, you ain't trying."