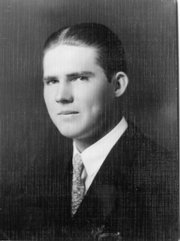 Steamboat Springs — Over a breakfast bowl of sliced peaches, a blind John Sandelin sometimes needed a hand getting a piece of fruit on his spoon. To carry on a conversation, he needed the help of a hearing aid - and loud, enunciated voices.
Sandelin needed little help Monday, however, recalling some of the major events that have shaped his life. It's a life that, save two years in the Navy, has been spent entirely in Routt County.
Sandelin turns 98 today. Friends and family say he is the oldest person in Routt County who was born here. Sandelin's story may be a rarity in today's mobile society, but he never had any trouble keeping busy right here at home.
"I do anything that comes along," said Sandelin, who sat over his kitchen table in a cowboy hat, with the family members who care for him. "In other words, I didn't have time to travel the world like a lot of people do. I had too much to do at home. I was busy at home all the time."
For Sandelin, doing "anything that comes along" has meant everything from working on his North Routt ranch to fighting one of the county's most famous fires. In January 1939, the Cabin Hotel in Steamboat Springs burned to the ground in what was pegged the most destructive fire in the history of Northwest Colorado.
"I believe it burned in something like 40-some minutes," Sandelin said. "It didn't take very long. I was down by the river seeing that the water hose would not run dry. In other words, the river was low. : The river was so low you had to build little ditches to see that there was water where the hoses were."
Sandelin correctly recalled that "we lost a young lady and an old man" in the Cabin Hotel fire. According to a Jan. 26, 1939, article in The Steamboat Pilot, "Merle E. Sweet, 71, ranchman of the Strawberry park section, and Miss Mildred Keltner, 24, formerly of Mead, Kans., but for several months employed in local establishments, were trapped in the burning building and met their death."
Pursuits a-plenty
Sandelin was born in the Fly Gulch area of North Routt, at a place he still refers to as "the home ranch." He graduated from high school in Steamboat from a class of 29 students. His daughter Marie Henderson said Sandelin starts each day by drinking a quart of warm water.
"That's his secret," said Henderson, who also noted her father has stayed away from drinking, smoking and drugs. Henderson is one of Sandelin's two daughters. He also has four sons.
Sandelin watched out for others' health along with his own. Employing skills he learned in the Navy, Sandelin joined country doctor F.E. Willett on rural house calls in the doctor's Studebaker.
An old business card from his Super Service Station proclaims, "For power and pep our gas has the rep!" Another business card is a testament to Sandelin's years as a hotelier. Sandelin built one of the buildings that are now home to the Nordic Lodge on Lincoln Avenue, and he came up with an interesting way to name the "tourist camp."
"I sent out a photo of all the people that was staying with me and told them I'd give them $5 to help me name it," Sandelin said. A woman said, 'I'd call it the Royal Rest' - and she got $5."
While most of his responses were labored and straightforward, a memory of his late wife and school-day sweetheart Katherine stirred a spirited reaction from Sandelin.
"She was in all the races," he said, referring to Katherine's participation in the Steamboat Springs Winter Carnival. "She was in the first race they ran in Steamboat Springs in bathing suits."
The memory of his young bride being pulled down Lincoln Avenue in the Diamond Hitch race, wearing a bathing suit and fur collar, drew a happy laugh.
Changes
When asked how Routt County has changed over the course of his life, Sandelin's first response is, "Oh my lord." He continued that the most notable changes have been "the people, and of course they built it up wherever there was a dime to be made."
Longtime friend Charlene Stees described Sandelin as "a great neighbor and a good guy" who wasn't afraid to stand up for what he believed in. Stees remembers Sandelin traveling to the state Legislature during a hard 1960s winter to pressure legislators to carry out an emergency feeding of Northwest Colorado elk.
"He is very outspoken about government," Stees said. "That's one thing we never talked about."
Doug Monger said Sandelin called him shortly after he was first elected to the Routt County Board of Commissioners, saying they needed to talk. Monger obliged. He described Sandelin as "a great character."
While his days meeting with government officials and taking them to task in letters to the editor may be behind him, Sandelin still doesn't hesitate to share his thoughts about how to take care of Routt County in the years ahead.
"My advice to the people already here would be to take care of what you've got," Sandelin said. "Don't be trying to get more stuff to come in and raise hell and remake the county. We don't need any more help."
- To reach Brandon Gee, call 871-4210
or e-mail bgee@steamboatpilot.com