Photo Gallery
All Mountain Ski Camp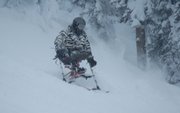 Steamboat Springs — It's been one year and four days since Nikko Landeros' accident. As a junior at Berthoud High School, Landeros and his friend Tyler Carron were removing a spare tire from an Isuzu Trooper when the driver of another SUV failed to see them and collided with their car on Larimer County Road 17, pinning the boys between the vehicles.
Landeros, a standout football player and 189-pound wrestler with hopes of advancing to the state championships, had his competitive dreams cut short. Both legs were amputated below the knees.
But riding up the Storm Peak Express chairlift Saturday, the gleam in the 18-year-old's eyes was obvious, even through the dark goggle lens.
All he wants to do is ski.
"I graduated at semester so I could ski, because I'm doing pretty good, so I'm going to try and do something with it," Landeros said. "I might ski race, or I want to do those (O&P Extremity Games). I want to do jumping. (In the Extremity Games Sit Skiing competition), you'll hit a jump, do some stuff and then hit another jump - cool stuff like that."
Landeros made turns with a group of eight other monoskiers Saturday at the Steamboat Ski Area on the first ski day of the All Mountain Ski Camp for Wounded Warriors and People with Disabilities.
The third annual adaptive ski camp, jointly sponsored by Adaptive Adventures, Access Anything, Steamboat Ski & Resort Corp. and Steamboat Powdercats, has grown to about 25 participants of varying abilities. The five-day camp combines three days of ski clinics and volunteer training at the Steamboat Ski Area with a backcountry finale Tuesday on Buffalo Pass with the Powdercats crew.
All that Steamboat Springs' Craig Kennedy had to do as a local guide and fellow monoskier was point Landeros and the rest of the group in one direction. From there, the experienced crew needed little to no assistance from the able-bodied volunteers there to provide support.
Landeros was right there at the head of the pack, carving some of the fastest turns through the fresh padding of a few new inches of powder on Rudi's Run.
Matt Feeney, Adaptive Adventures' co-founder, ski school director and 2007 Extremity Games Sit Ski third-place finisher, could appreciate the strides being made by his new ski partner.
Landeros "has only skied eight days on a monoski, and this is his first season," said Feeney, who also watched Landeros pick up wakeboarding at Steamboat's Water Ski & Wakeboard Camp for People with Disabilies in August. "I put him on the wakeboard, and he's jumping the wake on his second pass - he's pretty amazing."
Saturday's fresh snow - which Kennedy said has fallen every day of the three years he's helped run the camp - had the power to amaze in its own right.
By the time Sgt. Chris Fesmire got down to the Sundown Express chairlift, his beard already was collecting some of the snow kicked up during his turns along the trees of Moonlight trail.
After four years of active duty in the Marine Corps, Fesmire was recalled for another year of active duty in Kuwait and then volunteered for another mission in 2004 that took him to Iraq's western Anbar Province. Returning from a security patrol, his Humvee ran over a mine, causing an explosion that resulted in the amputation of both legs above the knees. The retired sergeant and his wife, Willow, recently moved into a cabin south of Fairplay, where he soaks in sprawling views of Pikes Peak, Antero Reservoir and Kenosha Pass.
Now situated amid the Rocky Mountains, Sgt. Fesmire takes advantage of every opportunity he can to experience them. He was among 10 other veterans wounded in service that had the opportunity to participate in the Steamboat camp - thanks to the Wounded Warrior Project, a nonprofit organization that partners with Adaptive Adventures as a chapter of Disabled Sports USA.
"It's such a great outlet to put your life in a new direction," said Fesmire, who began skiing five months after his October 2004 injury. "Being from the suburbs outside of Philadelphia, I was never exposed to this : it soothes the soul being outside."
- To reach Dave Shively, call 871-4253 or e-mail dshively@steamboatpilot.com