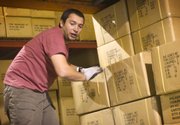 Steamboat Springs — When Big Agnes devotees visit Steamboat Springs and want to check out the headquarters of their favorite outdoor equipment company, they're often surprised to find that Big Agnes' showroom consists of a sleeping bag display tucked away in the corner of BAP! Inc.'s modest Steamboat Springs store.
"People are shocked to find out that we're such a small company," owner Bill Gamber said.
Yet Gamber credits the company's small size - and staff camaraderie - with allowing it to move quickly and stay on the cutting edge. One of Big Agnes' newest products, the award-winning, 20-degree Skinny Fish sleeping bag, was put together in only four months, from planning to prototype to full production.
The Skinny Fish was recently honored with a Best of 2008 Adventure Gear Award from National Geographic Adventure magazine. Big Agnes, a small and relatively young company, is humbled to have beaten out outdoor heavy-hitters including The North Face and Mountain Hardware for the award, Gamber said.
In addition to its accolades, the Skinny Fish is made with more recycled content than any other sleeping bag on the market, he added.
Awards netted by Big Agnes and its sister companies are proudly displayed at the front of BAP!'s Oak Street store and headquarters. Last year, the Big Agnes Emerald Mountain SL3 tent won the Backpacker 2007 Editors' Choice Award, one of the most coveted and prestigious honors in the outdoor industry, Gamber said.
The Skinny Fish was launched late last fall as a preview for Big Agnes' 2008 product lines, and uses 88 recycled plastic bottles in each bag.
The sleeping bag and its 35-degree counterpart, the Ripple Creek, are part of Big Agnes' new Re-Routt Collection, which is comprised of sleeping bags, sleeping pads and camp booties made of recycled fabrics, fills and hardware.
"Everything but the zipper is basically recycled," Gamber said. "What we're looking at in one entire line, is taking a product that sells really well, without sacrificing price and performance, and making it greener."
Rather than design new green products from the ground up, Big Agnes seeks out recycled components that can be integrated into existing successful items from their product lines, said Chris Pottinger, who worked on the team that designed the Skinny Fish.
Hunting for environmentally friendly components for their products can be frustrating and time-consuming, and requires people to think outside the box and use things in new ways, Pottinger said.
"It's like going to a thrift shop - you have to keep your mind open," Pottinger said. "You never know what you're going to find."
The green approach does not stop with the products - Big Agnes, BAP!, and Honey Stinger aim to be as environmentally friendly as possible in all elements of their operations, Gamber said.
The companies buy wind power for their buildings, target and coordinate travel for efficiency and offers benefits for employees who participate in a commuter program. Their staff includes three people who bike commute though the winter.
"We want to be green, and live it - not just promote it," Gamber said.
Big Agnes was the first of nine businesses to be certified as part of the Steamboat Springs Chamber Resort Association's Sustainable Steamboat Business Program, said Sandy Evans Hall, the Chamber's executive vice president.
Big Agnes' latest honor comes on the heels of an extremely successful year. The company's sales have doubled every year it has been in business, Gamber said.
Big Agnes products are already sold nationwide, through chains including REI and Eastern Mountain Sports, as well as internationally. The company will soon put their products on the shelves at Sport Chalet as well, for greater market penetration in California, Arizona, Nevada and Utah, Gamber said.
Apparel producer BAP! Inc. launched a new Web site last week, as part of the drive to push the business from regional to nationwide, Gamber said.