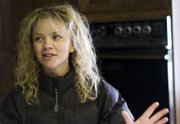 Steamboat Springs — Barb Shipley isn't shy about the community support she'd like to see for tonight's fourth annual Hazie Werner Hospitality Party:
"We're looking for some checks with some zeroes on the end," she said of the effort to raise money for the $2.5 million Rollingstone Respite House, which would serve as Northwest Colorado's first residential hospice facility.
The party starts at 6 p.m. and features music by Atlanta band Banks and Shane. The Friends of Hazie Werner will accept donations of any amount for the hospice house.
The facility would house up to five hospice patients and include an adult day care program and youth bereavement services. Hospice care is designed to provide comfort to patients and their families when a terminal illness reaches its final stages.
The goal is to create a place that not only looks like a home, but in many ways functions like one. That would include space for families to visit and stay with hospice patients, kitchen and living areas and bedroom suites, all medically staffed and accessible to people with disabilities.
"We don't try to prolong life, but we try to improve the quality of life for not just the client, but for the family that's surrounding the client," hospice volunteer Jane Bennett said.
Bennett said she started volunteering for a hospice golf fundraiser six years ago and decided to complete a six-week training program to volunteer with hospice patients.
"I felt like this was sort of my calling to do this work, and I've been seeing patients for the last 4 or 5 years," Bennett said.
For now, volunteers, doctors and nurses from the Visiting Nurse Association visit patients in their homes or in the hospital. A care facility such as the Rollingstone Respite House would centralize those services for patients with complex health needs, VNA Executive Director Sue Birch said.
A homelike environment removes the potential trauma of having a loved one spend the last part of his or her life in the home, said hospice social worker and bereavement counselor Katy Thiel.
"It takes that caregiving burden off of family members so that they can get back to being family members," Thiel said.
Even in a community filled with people who are young and lively enough to live in a ski resort, the VNA projects a 13 percent increase in potential hospice patients in the next three years.
"All the baby boomers are getting old, and we have to have more of these things available," Birch said.
"It's highly significant that we have more services available in this community. We know that there are lots of us in our 40s, and we know we need more infrastructure and services to accommodate the looming aging phenomenon that's happening," she said.
VNA and Hospice have raised $1 million for the project. Birch said she hopes to have programs in place by the end of the year. All proceeds from the Hospitality Party will go toward renovating and paying for the house, which touches all parts of the community, Shipley said.
"No one is excluded from cancer, and no one is excluded from hospice services, if you have money or you don't have money," Shipley said.
"It can affect every human being, and everyone should be allowed the opportunity to die with dignity and grace."