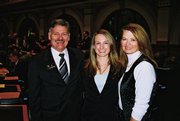 Steamboat Springs — Steamboat Springs High School senior Taylor Miller-Freutel said leading the Pledge of Allegiance before the Colorado General Assembly on Tuesday was a rush, but she hopes one day to have a much bigger stage.
"I'm going to be running for president of the United States in 2032," Miller-Freutel said.
The 18-year-old Steamboat Springs resident was invited by Rep. Al White, R-Hayden, to open Tuesday's session. White said a different representative is responsible for presenting the Pledge of Allegiance every day during the five-month session.
"The first person I thought of when it came across my desk that it was my turn to do it was Taylor," White said. "I could have done it myself, but she is very interested in government and policy, and since she plans on majoring in that when she goes to college, I thought I'd give her a firsthand look at government."
Miller-Freutel plans to enroll at Georgetown University in Washington, D.C., this fall, majoring in political science and business marketing. She also plans to volunteer this summer for White in his upcoming contest for the Senate District 8 seat against former Steamboat Springs City Councilman Ken Brenner.
"I'm excited to gain the experience and knowledge I need so that I am able to be a good intern in Washington, D.C.," she said.
White said he is excited to have Miller-Freutel help his campaign.
"She is very thoughtful and intelligent," he said. "I can't think of anyone else her age I could have invited down here that would have appreciated the legislative process."
Following the pledge, Miller-Freutel remained on the House floor to watch the wheels of government in motion.
"It was really exciting. I saw a couple of bills get passed and arguments on an amendment," she said. "It makes me really anxious to get into Georgetown, and if I do, I've already been invited by Sen. Ken Salazar, D-Colo., to be his intern on Capitol Hill."