Past Event
Saturday, January 19, 2008, 9 p.m.
Wired, 1860 Ski Time Square Drive, Steamboat Springs
Not available / $10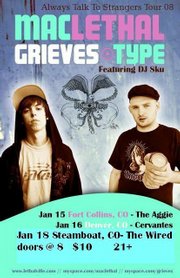 Steamboat Springs — Tonight, Andrew Lindsley and Brandon Norwick - or Ocelot and B_Where when they're performing - bring live hip hop back to Steamboat for the first time in what seems like a long time.
The show will feature underground touring acts Mac Lethal and Grieves as well as local sets from Lindsley and Norwick. With very little live hip hop available in town since he moved here in July, it's not surprising Lindsley has been looking forward to tonight's show.
"I couldn't be more excited for this weekend," he said. "It's an honor to bring this music to the community, because I know a lot of kids want to hear it."
As a duo, Lindsley and Norwick said they have two parts of hip hop culture covered. Norwick puts backgrounds together in his home studio with turntables, a drum machine, a keyboard and the magic of Pro Tools. Lindsley "steps up to the microphone and raps - that's all I know how to do."
Norwick acknowledged a propensity for big, sweeping arrangements in his tracks.
"I've been into the whole classical piano vintage thing lately," Norwick said, referring to the microphone as "the ultimate instrument" to making those tracks work.
Lindsley said he moved out West for its support of hip hop and to get a fresh start in making his own rhymes - even if he hasn't gotten the chance to see much of that kind of music performed since he got here.
"I'm not going to say everywhere does not have good music, but here (hip hop) is embedded in the lifestyle, it's embedded in the sports," Lindsley said, adding that you can see that influence just by looking at what younger people on the mountain are wearing (especially the ones with boards strapped to their feet).
"They're wearing that style of clothes, and they're listening to that style of music," he said.