Past Event
Friday, January 18, 2008, 5 p.m. to 8 p.m.
Wired, 1860 Ski Time Square Drive, Steamboat Springs
Not available / Free
Photo Gallery
Modern, lowbrow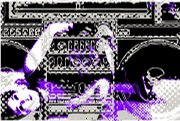 Steamboat Springs — Mike Benninghoven doesn't have anything against Steamboat's formal art spaces or galleries - he just doesn't expect his work to be on any of their walls.
"We're trying to get a group of artists together who maybe don't have the type of artwork that would hang in Steamboat," Benninghoven said about a show he's sharing with fellow local artist Daniel Daffer. The exhibition opens today with a reception from 5 to 8 p.m. at Wired Lounge in Ski Time Square.
"He wanted to do something local that wasn't the same stuff that you see in all the galleries around town," Daffer said. "I have nothing against cowboy art, but you see a lot of it and not much else."
Daffer described his paintings, which will be on display for the first time, and Benninghoven's stretched vinyl works as "modern, lowbrow art."
It's not that Benninghoven considers himself to be boxed out of the town's galleries. He had a show at the former Schiesser Gallery last April. But there's something about his works - which involve lots of layers and a definite urban art influence - that lends them to the walls of Wired just as well as a contemporary gallery.
"He's making up his own medium, basically, which is really very cool to me and is something I've never seen before," Daffer said. "You see people using vinyl to make signs, but I've never seen anybody basically use it to make paintings."
Benninghoven has put together "a sort of artists' collective" to get that kind of art shown locally.
"I don't even know how much of it will actually sell, even though that would be nice," Benninghoven said. "We're just trying to get people in there."
Finding interest from other artists hasn't been a problem. During the course of setting up tonight's show, Benninghoven said he has run into artists who have expressed an interest in joining the effort. He hopes to have an art opening in the middle of the month - every month - and maybe try some new venues once the event gets established.
"We're really excited about this and hope it grows into a beneficial part of the Steamboat arts community," Benninghoven said.