Keep up with the conditions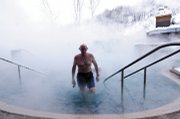 Steamboat Springs — Frigid weather, lots of cars and even more skiers dominate the forecast for the upcoming Martin Luther King Jr. holiday weekend.
There is little snowfall on the horizon, but Steamboat Ski Area officials anticipate big crowds during the next few days, which have meteorologists warning of sub-zero temperatures and car mechanics preaching preparation as winter weather puts a strain on vehicles.
Ski area officials have created an overflow parking plan after some of last weekend's crowds were forced to park at Central Park Plaza.
"This weekend being a holiday weekend with several events going on, including the Family Snow Festival, people can expect the parking to be busy," Steamboat Ski and Resort Corp. spokeswoman Heidi Thomsen said Thursday. "This weekend in the Meadows Lot, we will actually have some additional overflow available." Additional spaces also have been made available in the Upper Knoll Lot, where parking spaces were lost for the special events tent erected earlier this month.
Parking also will be made available on one side of Pine Grove Road, near the Meadows Lot, Thomsen said.
If all of the ski area's parking becomes full, overflow parking and dedicated shuttle service will be made available at Haymaker Golf Course.
"Our parking crews will be monitoring to see if and when we hit capacity," Thomsen said.
Thomsen warned locals not to head straight to Haymaker in the mornings, since shuttle service will not be offered there unless all other lots are already full.
"We really encourage people to use the city transit, carpool if you can - come out with your friends, it's more fun than skiing by yourself," Thomsen said. "If people can get dropped off, that's great, too."
Chilling out
While the ski area clocked seven feet of snow at the summit in seven days last week, the weather for the holiday weekend is expected to be colder than usual but relatively dry, said meteorologist Jerry Smith from the National Weather Service in Grand Junction.
After the storm that moved through Thursday passes on, there is only a 20 to 40 percent chance of snow the rest of the weekend, likely bringing no more than a few inches of total accumulation, Smith said.
Winds today are only expected to blow 10 to 15 mph, but the windchill factor will be below zero, Smith said.
High temperatures will be mostly in the teens throughout the weekend, with temperatures possibly rising into the 20s Saturday and Monday.
Sunday is expected to be frigid, with daytime highs not expected to surpass 10 degrees.
"It's going to stay cold," Smith said.
Car talk
As winter drags on and temperatures drop, car trouble rises. Colorado motorists request more roadside assistance in February than any other winter month, according to AAA Colorado.
"It has a lot to do with the weather and the fact that it is several months into the winter," said AAA Colorado spokesman Eric Escudero.
Motorists can get into trouble now and in coming weeks because their vehicles have been "used and abused" through several months of cold temperatures, Escudero said.
Motorists should make sure to keep up with routine maintenance, especially maintaining tire pressure - which naturally drops as temperatures go down - and making sure your vehicle's battery is in good condition, he said.
"Getting your battery checked is especially important, since batteries lose their strength in colder temperatures," Escudero said.
Motorists also should remember to keep their windows and windshields as clear as possible, and keep basic tools such as jumper cables in their vehicle, along with basic survival gear in the event that they become stranded.
"Everyone's going to have problems with their car sometime, so be prepared," Escudero said.