Audio clip
"My hands were out, my snowboard was out, but that was about it"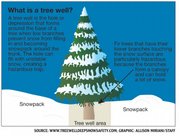 On the 'Net
Learn more about tree wells, hazardous snow conditions and safety techniques on the Web at www.treewelldeeps...
Steamboat Springs — Steamboat Springs snowboarder Dan Tullos knows firsthand how too much powder can quickly create a deadly situation.
About this time last year, Tullos was cruising down the Priest Creek lift line on a powder day at the Steamboat Ski Area when he dropped 15 or 20 feet off a rock, into a gully, carrying "way too much speed."
"I knew I was kind of (in trouble), so I tried to jump over it ... and pretty much just ended up falling backwards into it," Tullos, 25, said Wednesday.
He found himself buried under about 2 feet of snow.
"My hands were out, my snowboard was out, but that was about it," Tullos said.
He was unable to move but could see occasional glimmers of sunlight through his goggles, meaning the surface was close.
"Being that close, instinct kicks in and you just try to gasp for air because you know it's right there, but I couldn't quite get to it," Tullos said. "It's basically like drowning. Even if you are close to the surface, the snow is so powdery here, it just falls right down in on you, and you can't unbury yourself."
Tullos was riding with friends, and they had seen the poof of snow from his fall. After five minutes, Tullos said he began to lose consciousness but could hear the sound of footsteps above.
"I was actually buried enough that they couldn't unbury me," he said. "They ended up having to grab my snowboard - the two of them - and pull me out from underneath."
Deep danger
Deep snow and tree skiing is what brings people like Tullos to Steamboat Springs. But the Tuesday death of Mark Joseph Stout, a 45-year-old Pennsylvania man, serves as a powerful reminder that there are hidden dangers in the mountains - especially when 3 feet of snow falls in a single weekend.
Stout, who was in the wholesale produce business, was skiing with his 15-year-old daughter and friends Tuesday when he fell behind the group at about 11:30 a.m. in Morningside Park at the Steamboat Ski Area.
Ski patrollers found Stout at about 1 p.m. and administered CPR. He was pronounced dead 25 minutes later.
Routt County Coroner Rob Ryg is investigating the death. He said it appears Stout fell headfirst into a tree well.
Ryg said there was no apparent trauma to Stout's body. Stout was in good health, he added.
Skiing and snowboarding deaths caused by snow suffocation are referred to as Non-Avalanche Related Snow Immersion Death, or NARSID. According to research conducted by Northwest Avalanche Institute Director Paul Baugher, NARSIDs account for 15 percent of all snowboarding fatalities and 5 percent of skier fatalities. During the 2005-06 season, four of the 10 snowboarding fatalities at U.S. ski resorts were NARSIDs.
Stout's autopsy is scheduled for Friday in Jefferson County. His death could be Steamboat's third NARSID since 2000.
On Feb. 20, 2005, Thomas Dolven, 46, of Denver died after falling headfirst into deep snow near the bottom of Chute 2 on the upper mountain. On Dec. 16, 2000, Matthew Westley, 23, of Steamboat suffocated after falling headfirst into deep snow off the Frying Pan trail in the Morningside Park area.
Survival odds low
The dangers associated with tree wells are often overlooked or not understood by skiers and riders, said Baugher, who began researching NARSIDs in 2005 after two fatalities at Crystal Mountain Resort in Washington. Baugher is the ski patrol director at Crystal Mountain.
"It is a significant risk skiing in a Western resort that has deep snow and/or timber," Baugher said. "It is currently an underappreciated risk, but that is changing rapidly right now."
In March 2007, Baugher said he gave a talk about tree wells and deep snow safety at a ski industry conference at Steamboat Ski Area. During his visit, he had a chance to ski at the resort.
"I looked around and said, 'This is NARSID country,'" said Baugher, taking notice of the deep snow and dense coniferous landscape here. "It did leave an impression on me when I was out there last spring."
In addition to collecting data on NARSIDs, Baugher developed a Web site, www.treewelldeepsnowsafety.com, to help educate everyone from ski area executives to consumers about the dangers of deep snow and tree wells.
"It's part of the inherent risk of skiing,"he said.
The odds of surviving a deep snow immersion accident are low, Baugher said, especially when skiing alone.
"The good news is the risk is manageable," Baugher said. "Appreciate what that risk is and manage it."
Advice includes keeping your ski partner in sight at all times.
Steamboat Ski and Resort Corp. spokeswoman Heidi Thomsen referred all questions about tree wells and deep snow safety to Steamboat Ski Patrol Director John Kohnke. Thomsen said Kohnke was in a daylong meeting Wednesday and not available to comment.