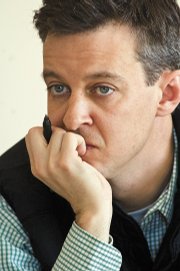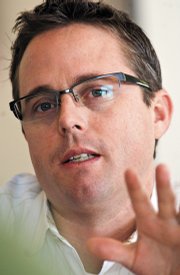 Raise a concern about Steamboat 700, and Danny Mulcahy provides a calming answer.
If you're concerned about what effect the development - which proposes to bring more than 2,000 homes throughout 20 years to a 700-acre parcel west of city limits - will have on the value of other Steamboat Springs homes, Mulcahy said those prices will, at worst, stabilize.
"The only thing that would cause prices to come down is if the snow stops falling," Mulcahy, the development's project manager, said Monday.
If you're worried about the national housing economy, Mulcahy will tell you Steamboat 700 is lucky to be in its formative stages.
"I'd hate to be coming out of the ground at this stage of the economy," said Mulcahy, who doesn't expect any houses to go vertical until 2010, at the earliest. "The market should correct itself within the next two years."
Mulcahy assuages environmental concerns by touting the development's proposed 221 acres of open space, more than 10 miles of trails and enhancement to wetlands and riparian corridors. He even claims the development will reduce Steamboat's carbon footprint by allowing people to live in the city rather than driving from outlying areas.
If community character is your concern, it's Mulcahy's, too.
"I've been coming here for 25 years; I don't want the community to change, either," he said. "At the end of the day, I'm delivering what the community wants. It's a highly dense, new urbanism designed for the full-time resident."
And if you're a working-class person who fears you've been priced out of the local housing market, Mulcahy said his development is worth waiting for - and he knows your plight.
"I've lived as hard as anybody," said Mulcahy, who related his experiences in previous professions, including a job as a janitor at a golf club.
In advance of a joint meeting with the Steamboat Springs City Council and Planning Commission today, Mulcahy clearly has fine-tuned his message to the city he hopes will annex his massive development. Additionally, the development team has decided to acquiesce to procedural concerns raised in recent weeks.
Councilwoman Meg Bentley and former Councilman Towny Anderson have encouraged a more public process for the development at recent City Council meetings. Anderson, in particular, has urged the city to negotiate a pre-annexation agreement before all else.
According to the city's Community Development Code, "No petition of land shall be reviewed or approved until the petitioner and the city have negotiated and entered into a pre-annexation agreement:"
Anderson said this agreement presents a unique opportunity for the city to define its expectations and demands for the development. He was troubled by language in Steamboat 700's initial submittal to the city that appears to put less emphasis on the agreement: "At the pre-application stage, which is the next step in the process after this initial submittal, Steamboat 700 will initiate the formal land use review process and will also submit an annexation petition, annexation map and a proposed pre-annexation agreement."
Anderson said that language conflicts with the Community Development Code. He said negotiating the pre-annexation agreement at the same time the development application is being considered gives developers an unfair advantage.
"The pre-annexation agreement is basically going to reflect the development they want, rather than the development reflecting the principles agreed to in a pre-annexation agreement," he said.
Bob Weiss, a local land-use attorney representing Steamboat 700, said the situation is more ambiguous than Anderson claims. Nonetheless, he said it's a battle not worth fighting.
"I have a very simple answer for this question," Weiss said. "It's not worth arguing about. We will do a pre-annexation agreement with the city before we submit a petition : rather than create an issue where there isn't one."
City Attorney Tony Lettunich and City Planner Jason Peasley stressed Monday that the process still is in its infancy and that there is time to define the procedures by which the development will move forward.
"What we're going to be talking about (today) is process," Peasley said. "We want to solidify with City Council how we communicate with them the status of this project and how we receive policy direction from them."
Mulcahy, while prepared with a reassuring answer to almost any question, is prepared for a lengthy and difficult negotiation with the city.
"It will be a dance," he said.
The city is likely to demand infrastructure and other public benefits, and Mulcahy in turn hopes to receive an overall minimum density and vested approvals lasting at least 25 years.
"These are the main things, and I need the process to be timely," Mulcahy said. "Every single time development gets delayed, prices go up."
Mulcahy also hopes the city will be flexible in its design guidelines.
"What I don't want is a homogenous community," Mulcahy said. "I like the eclectic mix of houses that are downtown. We want that same eclectic mix as a part of ours."
And, not the least of his concerns, Mulcahy said the city needs to remember that he's not here to lose money. The city's area plans call for 33 percent affordable housing in west Steamboat, 20 percent of which is supposed to be supplied by developers. Mulcahy said such a stringent requirement means he must be allowed to make up profit margins in other areas.
"The community needs to keep these things in mind," Mulcahy said. "Houses are expensive to build. This is a big project, and it's going to cost a lot of money to deliver 20 percent affordable housing."