Photo Gallery
Where art and commerce converge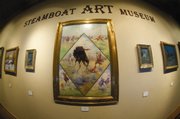 People close to Steamboat Springs' visual arts scene are watching closely and wondering whether downtown redevelopment could usher in a new kind of growth.
With scores of new resort condominiums and downtown lofts being built and marketed at $1,000 per square foot, and with new commercial spaces wrapping the corners of downtown intersections, is Steamboat on the cusp of becoming a successful gallery town?
"The timing is really good right now," Robert Dieckhoff said. "It's as good as it has ever been."
Dieckhoff is one of Steamboat's most accomplished artists, rendering area landscapes and landmarks in a style that is immediately recognizable. He has devoted so much of his time in the past year to advancing the arts community in Steamboat Springs that he has had to set aside some of his own plans to develop a new theme in his oil paintings.
A dramatic painting of a rodeo bull rider on display at the Artists' Gallery of Steamboat is indicative of the new Western theme he intends to develop.
Dieckhoff is a founding member of the year-old Artists' Gallery of Steamboat - a member-owned and operated gallery - and president of the board of the Steamboat Art Museum at Eighth Street and Lincoln Avenue. He thinks those new institutions, together with the Steamboat Springs Arts Council, the new Public Arts Board and existing galleries, are poised to make the most of changes being wrought in Steamboat's historic commercial district.
Many in the Steamboat arts community agree that the community must achieve a certain critical mass before people from outside the Yampa Valley perceive it as an art destination.
Shirley Stocks and her husband, Rich Galusha, run one of Steamboat's longest-running and most successful galleries, the 10-year-old Wildhorse Gallery at the Sheraton Steamboat Resort.
Stocks is active in the Steamboat Art Museum and is hopeful that it can solidify Steamboat's reputation as an art town in much the same way the Whitney Gallery of Western Art has helped Cody, Wyo., become an international art destination.
"Cody was once just a little Western town," Stocks observed.
The Whitney is one of five individual museums that comprise the Buffalo Bill Historical Center. Over the course of decades, they have become a major attraction for travelers on their way to the east entrance of Yellowstone National Park. With the help of a $50 million endowment, the Historical Center boasts an annual operating budget of $7.9 million and claims that it creates an annual economic impact of $35.5 million. Entry fees for the 250,000 annual visitors alone generate $2.2 million.
Of course, the Steamboat Art Museum, still in its infancy, isn't in that league. But it has the potential to attract some shows based on important regional collections and expose the art to a diverse audience, Stocks said.
Art's footprint
Dieckhoff said the museum is just one ingredient that is raising the profile of Steamboat as an art town.
"The footprint of art, on a square-foot basis, is becoming much bigger," he said. "It's something people can walk down the street and see. They can stumble on it. And as more artists come here, they will feed off each other."
The cooperative Artists' Gallery of Steamboat, which just celebrated its first anniversary, is a place where emerging local artists can test the marketplace.
Fine-art photographer Barb Sanders, who is president of the gallery's board of directors, said 26 member-artists share equally in the monthly rent of $5,000 for 3,600 square feet in a historic newspaper building at 1009 Lincoln Ave. They also share in expenses such as insurance and utilities, leaving them with a modest monthly fee of $300. Still, it's a month-to-month proposition for many of the artists, she said.
"We all have to sell enough work to pay that $300," Sanders said. "I think lots of the artists are subsidizing the gallery."
Experience has taught them that it's important to have pieces available for $100 or less to generate sufficient sales to break even.
Stocks said she and her husband launched Wildhorse Gallery without a business plan.
"It was truly a leap of faith, she said.
Galusha's painted landscapes of the Yampa Valley are a mainstay of the gallery. However, the gallery also seeks out local and regional artists whose style matches their customer base of second-homeowners.
Stocks' own artistic contributions and business acumen are a big part of Wildhorse's success; she paints expressive watercolors, and she knows how to read a balance sheet.
As a paralegal in California, she dealt with real estate and business law. She's had ample experience drawing up legal agreements.
And, perhaps of greatest significance, she worked as a bookkeeper.
"I track everything down to the most ridiculous little things. I track Rich's paint consumption. I also know what type of art is selling and in what price range - what artist, what style."
"Don't send me a painting of the Tetons," she said.
Images of Nature gallery owner Todd Savalox welcomes Tom Mangelsen's wildlife photographs with and without the iconic Tetons in the background.
Savalox has the advantage of representing the work of a single nature photographer who also is an astute businessman with many years of experience under his belt on the gallery side.
"Tom Mangelsen is widely recognized as one of the best wildlife photographers in the world," Savalox said.
Mangelsen has 15 galleries across the country, including one in Denver International Airport. Of the 15, only two - in Breckenridge and Steamboat - are owned by someone other than the photographer.
Savalox ran Mangelsen's gallery in Vail before he was offered the opportunity in Steamboat.
He has owned the gallery for eight years and is thankful he owns his building at 730 Lincoln Ave. It gives him the security of knowing that an increase in rent won't push him outside his business plan.
"After eight years, I think I can safely say that I can raise my family in Steamboat Springs now," Savalox said. "But I'm not sure."
The Mangelsen galleries are so refined in their approach to the galleries that they know with certainty the optimum size for new galleries featuring Mangelsen's photographs of grizzly bears, bald eagles, moose, polar bears and owls.
"The optimum size is 2,000 square feet," Savalox said. "That's the space you need to comfortably display the top 100 (selling) photos," Savalox said. "Anything less, and you're giving away dollars. Anything more, and you're spending extra dollars."
Part of the reason Mangelsen galleries need 2,000 square feet to show the 100 best-sellers to customers is that Mangelsen and Savalox understand the "wow" factor.
Some of the panoramic format landscapes are printed to 16 inches by 47 inches, or even 22 inches by 68 inches. It's difficult to view them without uttering that word: "Wow."
"It's a lot easier to sell off big, framed photographs into a smaller print," Savalox explained. "It's a lot harder to sell up from a smaller image. If I could sell one 16-by-47 a day (for a couple of thousand dollars), I'd be happy."
More typically, the huge framed prints on the wall help sell customers on smaller reproductions of the same image.
A block away, at the K. Saari Gallery, Kimberly Saari's new space represents artists whose work is very different from Mangelsen's images of the natural world.
After serving her apprenticeship in well-established galleries in Charleston, S.C., and Richmond, Va., Saari has brought Steamboat a small gallery that evokes a museum. That's not an accident.
After earning her undergraduate degree in anthropology and French, Saari worked at a gallery in Charleston before returning to school to pursue a degree in museum studies at Virginia Commonwealth University in Richmond. Her postgraduate studies helped her land an internship at Manhattan's Whitney Museum in 2003.
Saari approaches hanging a new show at her gallery the way a museum curator would.
"I'm not an artist - never have been," Saari said. Yet, she challenges herself in much the same way an artist would.
"Artists must keep creating. You, as a gallerist, have to do the same," she said.
Saari works closely with Routt County artists, but she also makes frequent trips to Boulder, Denver and New York to discover new artists and pieces for the gallery. In a few short months, she has earned a reputation as the most daring gallery owner in town. There are Western themes to be discovered at K. Saari Gallery, but she's clearly willing to take chances.
A key to Steamboat's success as a gallery town, she believes, is the longevity of the galleries. She admires Aspen's Baldwin Gallery for its perseverance while remaining current.
"They're always changing shows and constantly doing events. They're trying to keep it as dynamic as possible," Saari said.
She also believes it's important to achieve a certain density of galleries within a few blocks.
"I'm honored to be between the museum and the Artists' Gallery (of Steamboat)," she said.
"Customers need to be able to walk and go. Richmond is really good at that. You've got to make it easy, quick and fun."
It isn't apt to happen overnight, but the makings of a gallery district in Steamboat Springs are falling into place.