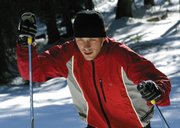 Antonio Marxuach is one of Steamboat Springs' most dedicated skiers. And he has yet to ride any of the chairlifts at Steamboat Ski Area.
"I moved up here to cross-country ski," said the devout Nordic guru, who has taught the Steamboat Ski Touring Center's Masters Program since the winter of 2002-03. "I have no boards wider than about 5 centimeters."
Marxuach understands the complementary ying and yang of Nordic skiing's two disciplines - skate and classic - and to ask him to pick one, he says, would be like asking him to pick which parent he loves more.
But sometimes you have to play favorites.
For cross-training purposes, there's a reason some of Steamboat's most fanatic athletes - whether its mountain biker Barkley Robinson establishing a fitness base for NORBA nationals or Joy Rasmussen preparing for October's Ironman World Championship - point to skate skiing as their No. 1 method for staying fit during Steamboat's long winters.
"Comparing skate and classic out of the box, you don't have to be as masterful on skate skis to get more bang for your buck - it's possible to be sloppy and get decent propulsion," said Marxuach, who has a blacktop race background at the elite end of inline speed skating.
By combining the quadrilateral exercise component of swimming with the weight-bearing component of running, skate skiing provides one of the most aerobically demanding workouts this side of the octagon.
"It's the ultimate core workout - yoga in motion," Marxuach said.
Simply put, it's a quick and fairly easy way to exhaust yourself.
Because of this ease of self-destruction on the road to self-improvement, Marxuach and Kyrill Kretzschmar, fellow Masters program instructor at the Ski Touring Center, offered a few tips for newbies to avoid insta-burnout:
- Howelsen Hill offers the most immediately accessible Nordic trails in town, and a day pass is only $7.50. But Howelsen can be a little intimidating for the novice. "Nothing will make you more frustrated than a slight incline," Marxuach said. "You really need to work on your technique and then take it to an incline." Because 80 percent of the trails at Howelsen are rated as moderate or difficult, head to the Ski Touring Center, Vista Verde Ranch outside of Clark, the Lake Catamount Touring Center or the Steamboat Lake State Park Touring Center for flatter, groomed options.
- So you think you're ready for the hills but you're not sure about the V2 alternate open field skate when you should be using a V1 offset skate for the hill climb? Maybe a lesson or two should be in the works. "There's great opportunities to waste energy," Marxuach said of the technique benefit of lessons. "You need to set yourself up for success. I can describe it all day long, but you need the kinesthetic (understanding) of watching and practicing the motions." Remember, conditioning cannot make up for sloppy technique.
- Still too stubborn for lessons? Force a technique crash-course upon yourself by skating sans poles. "Guys will use their arms too much, so start without poles on flat terrain, then once you add poles, it will be for propulsion rather than correcting what your legs can't do," Marxuach said. "I'll warm up and cool down my Masters classes without poles - it's something beginners are reluctant to do but even experts do to improve."
Kretzschmar added that one of the easiest ways to pick up on form is to simply follow a good skater for as long as you can keep up.
- Mindset, check. Balance, check. Weight transfer, check. Rhythm, check.
Don't forget the hat. A new ski sport brings with it more gear. Don't expect Alpine ski clothing to work for cross-country skiing. Rather, rely on the gear you might use for cold weather cycling or running. "Something to keep those thoracic organs warm and block the wind. Plus a hat," Marxuach reminded.
Salomon and Rottefella offer the two main boot/binding systems, but don't get bogged down with the details. Go with the more comfortable boot that will get you skiing, and rent before you buy. Most ski touring centers in addition to shops such as Ski Haus will rent skate skiing packages.
- Once the initial investment is made, a lifetime sport (and one that costs significantly less in the long run than any day on lift-accessed Alpine ski slopes) should pay off. Or as Kretzschmar - a two-time All-American cross-country skier at the University of Denver - likes to put it, rehashing the German Ski Federation's old slogan, "Skilangläufer leben länger!" In other words, cross-country skiers live longer.
Glide resistance -
Sticking to their shoes
Some skate-ski doubters still like the freedom to get an off-road, or in this case, off-groomed-trail workout. Greg Long, the Steamboat Springs High School track and field distance coach, has his sights set on a Colorado indoor 800-meter record - so he can't just hang up his running shoes come winter.
Instead, Long grabs his snowshoes for the perfect supplement to his road and track training.
"I use poles, so it's also an upper body workout," Long said. "It's just a great power workout - one, you're carrying more weight on your feet, and two, there's more resistance that creates more power, like you're in the gym."
And once the snowpack is set and the streams start to freeze over, snowshoe running lets you get off the groomed path and into the backcountry.
"A whole new world opens that you don't normally see other times of the year," Long said. "In summer, there's brush or downed timber. But with the snow, you look up the slope and can go anywhere you want. And I can take my dog, too."