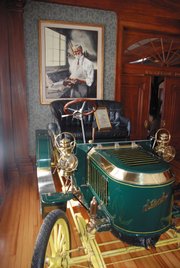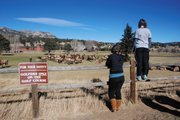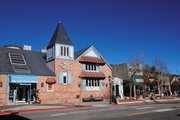 Estes Park is farther from Steamboat Springs in winter than it is in summer. However, it's worth another 60 minutes of driving to experience the beauty of the east entrance to Rocky Mountain National Park without the crowds.
The national park and its broad meadows, thick with wildlife, see three million visitors annually. The people tend to overwhelm the little town tucked against the edge of the Rockies west of Loveland. But Estes Park is almost sleepy in the off-season. It's a time when you can take in a classical music performance in the music room of the historic Stanley Hotel, go out for breakfast in town without waiting in line and explore downtown without battling the crowds.
"I've been in Estes Park for 16 years and loved every day," Mountain Home Cafe owner Marjorie Corcoran said.
She had ample time to chat with breakfast guests in November but said it's a slightly different story in June, when the waiting list at her little dining room grows to 100 parties.
The many lodges that serve Estes Park's summer crowds are relative bargains all winter. You can book a room with a fireplace, overlooking a creek, for $60 a night.
If one were planning a trip to Estes Park from Steamboat in July, the obvious preferred route is via U.S. Highway 40 east to Granby and then north and east over Trail Ridge Road via Grand Lake. But Trail Ridge Road closes for the season every October, forcing Estes Park-bound Yampa Valley residents to head north through Walden and over Cameron Pass to Fort Collins. The final 75 miles of that journey are through twisty Poudre Canyon, but if you can afford to take your time, it's a destination in its own right. From Fort Collins, it's a quick drive to Loveland and then west up another twisty canyon following U.S. Highway 34 along the rushing Big Thompson River.
The trip will take 4 1/2 hours in good weather with a couple of rest stops. So, it's best to visit Estes Park when you can stay at least two nights. Or, you could alternately combine Estes Park with a trip to Boulder to visit campus or to attend a sporting event in Denver.
If at all possible this winter, plan to spend Sunday afternoon in Estes Park so you can attend a classical music performance at the Stanley. They take place from 2 to 3:15 p.m. through April, and admission is just $5 for adults (children and students get in free). Check www.estesparkmusicfestival.org for the calendar.
The performer Nov. 18 was young international piano sensation Hsing-ay Hsu. The setting was unsurpassed, with views of snowcapped mountains through the Stanley's south-facing windows.
While you're at the hotel, take time to view its historical collection, including cast photos of the TV mini-series version of "The Shining." The mini-series - not the movie starring Jack Nicholson - was filmed there. The lobby is graced with a 1906 Stanley Steamer automobile.
If you have been to Estes Park before, you already are aware that it is not a great shopping destination despite, its many retail shops. The merchandise tends toward souvenirs. But there is one store in particular that deserves your attention: Trendz at the Park. This beautiful shop at 100 East Elkhorn offers an eclectic blend of modern home furnishings, cookbooks, handbags and more decorative items than can be mentioned.
What makes Trendz at the Park stand out is its clever floor design. The different categories of merchandise are not all grouped together, but broken up into themed displays. For example, you might find cowboy-themed dishware, cookbooks, pillows and candleholders together in one display. The same kinds of merchandise are certain to be repeated in another area of the floor, but they are grouped to evoke a different theme.
We enjoyed a hearty dinner of ribs at the Hunter's Chop House on Big Thompson Avenue, and breakfast was good at Mountain Home Cafe.
There are a bewildering number of lodging choices in Estes Park, from expensive B&Bs to the historic elegance of the Stanley, and all the chain motels you would expect. We enjoyed our stay with hosts Scott and Patty Eldridge at the 4 Seasons Inn, 1130 W. Elkhorn St., where we could admire our own stretch of the Fall River from the lawn. Keep in mind the property welcomes adults only.
Scott Eldridge is a fishing guide and will give you advice about how to hook a trout right outside the door of your room, or he'll take you on an all-day excursion below town on the Big Thompson.
If you've come to Estes Park to view a winter sunset behind Long's Peak, by all means pay the $20-per-car admission fee for Rocky Mountain National Park. If you've come to see elk, you'll find them grazing all over town.
If you'd like to take a short hike in the park without paying the admission fee, head north from Wonderview Avenue on MacGregor to the Lumpy Ridge parking lot. The popular rock climbing area includes the dramatic Twin Owls pillar. It's also a rewarding hiking destination for young families, particularly when there's fresh snow on the unusual rock formations.
- Story and photos by Tom Ross