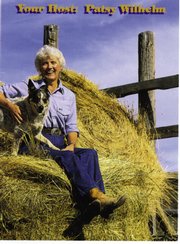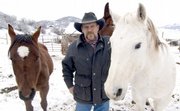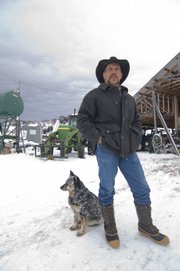 Come February, Rick Wilhelm will saddle up his white horse Badger and ride laps down Lincoln Avenue. Behind him, local children will hold on for dear life - and, in so doing, will keep alive a Steamboat tradition almost a century in the making. The Wilhelm family has played a significant role in that tradition, providing some of the horses and riders for Winter Carnival street events for the past 60 years. This will be the first year since 1949 that Rick's mom, Patsy Wilhelm, won't roam snow-covered Lincoln Avenue. Patsy, a quintessential rancher with the spirit and work ethic of five adult men, passed away last August in Loveland. She was 67. Rick took a few moments out of an early winter day to talk with At Home about ranching, Winter Carnival and his mom.
At Home: Tell us about your mom, Patsy Wilhelm.
Rick Wilhelm: She was pretty incredible. She was 67 when she died, but you would never know it. You wouldn't know it by looking at her or trying to keep up with her all day. There weren't a lot of people who could keep up with her.
AH: The history of Winter Carnival is deeply rooted in ranching. Tell us a little about that.
RH: You think about what they were doing in the '30s and '40s in ranching. They were out here all day. There was no reason to go to town. They were cooped up; they had cabin fever, basically. They fed their livestock once a day, they didn't have televisions - they might have had a radio in their house to listen to. In the middle of February, it was time to go and see everyone in town. It was more of a social thing - and it still is. It's just a mid-winter get-together for the ranching community, that's what it really started out as.
AH: Five generations of your family have participated in Winter Carnival. Why do you think it's been such an important event for the Wilhelms?
RH: It was a reason to go to town, see everybody and have a lot of fun. You start when you're a teenager because you get the adrenaline rush. And you get to be in your 50s, and you still go down every day - even when it's cold, because it's fun. We still love getting out on our horses.
AH: How has the local ranching community changed during the past couple of decades?
RH: None of us, I don't think, are as deep-rooted in ranching, because we can't be. We have to do other things now to maintain a living. That's why my mother did the sleigh rides for 25 years. We're a small ranch. We have 500 acres here, and by Western standards, that's not even a hobby ranch. So we do things besides ranching. The tourist industry basically changed the direction of the valley - from ranching and mining to tourism. Ranchers can't afford to do it anymore.
AH: Have you thought at all about what Winter Carnival is going to be like this year without your mom out there leading the way on her horse?
RH: It's definitely going to be different, but we can't stop. She wanted to be a part of it. If we could get her down there, we would (laughs). She'll be there in spirit. And the fact that she has two granddaughters riding; I'm sure one of them will fill her spot. She taught them all to ride, so they should be able to do it.
I'm sure they'll probably do a tribute to her. Dean Vogelaar pretty much said that at her funeral - they had to keep going on or she would haunt him (laughs).
AH: Galloping down a snowy Lincoln Avenue on horseback doesn't exactly seem safe, does it?
RH: There's a pretty big element of danger involved with the horses. They're running as hard as they can run - on ice, basically. It's easy for the horses to slip and go down. A couple of years ago, Mom was riding down the street and her stirrup leather broke on her saddle while the horse was pulling a shovel.
AH: Speaking of dangerous, what exactly motivates someone to ride down Lincoln Avenue on the blade of a shovel?
RH: My older brother was probably one of the first people to ever ride a shovel down Lincoln Avenue, and it was just because it was the beginning of the day and the parade wasn't ready to start yet and the crowd was getting restless, so they just grabbed a shovel out of the back of one of the pickups, and Mom threw him on it and they dragged him down the street.
The shovel is the hardest thing there is to pull. Skiers are essentially sliding, and you don't even know they're behind you. But shovels are like dragging anchors down main street, and that's why all the horses disappear when the shovels come out. Most of the guys say, "Nope, not doing that with my horse."
AH: Do Winter Carnival newcomers and visiting spectators have an understanding of the ranching community's influence on the event?
RH: It's a good chance for the ag community to get out in the community. That's what a lot of people don't understand about what they see when they drive into this valley. The big open spaces are somebody putting a lot of time and effort into keeping a family ranch going. You have to appreciate the guys that do that.
- Interview by Brent Boyer; Photos by John F. Russell
Inset photo: Courtesy photo of Patsy Wilhelm