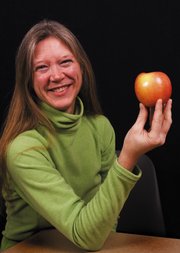 Many of us live busy lives. We try to fit in a few runs of skiing on the mountain during our lunch breaks. In addition, some of us also have a stressful or physically demanding job. You also may be one of the unlucky people with an injury, searching for ways to get healthy and salvage part of the ski season.
Nutrition plays a key role in maintaining good health and in recovering from many ailments. Eating properly and wisely will aid in a speedier recovery from a hard day on the slopes or perhaps even an unfortunate visit to the emergency room. Make it a point to eat and drink for success to stay healthy, recover better and reduce the effects of stress. Here are a few ideas to accomplish just that.
Fluid
Good fluid sources include water, milk, juices, sports drinks, soups, gelatins, fruit smoothies and fruit-flavored waters. Fluid helps our bodies use nutrients efficiently in energy production, helps maintain the body's temperature and acts as a lubricant. Water is one nutrient that is often neglected. A lack of water can lead to dehydration, and dehydration can quickly ruin a day of skiing.
How do you know if you are dehydrated? Symptoms may include a headache, loss of appetite, nausea, fatigue, lack of sleep and dizziness. I recommend keeping a bottle of water in your car, at your desk or in your jacket pocket, and add a fluid to your meals and snacks. Other drinks may work in many cases, and water is usually the best.
Antioxidants
Many antioxidants are found in fruits, vegetables, whole grains and dried beans. So, why do we need antioxidants? Let's step back for a moment and look at oxygen. Oxygen is an important element in the production of energy by our bodies. However, it is an unstable element that can change form under certain conditions and react with other molecules in the body in a way that can cause tissue damage. This tissue damage can lead to heart disease and cancer. Before you head out to the slopes, have a bowl of whole grain cereal topped with dried cranberries and milk.
Protein
Protein helps repair, maintain and build muscle. It also is used by our bodies to build many live-sustaining chemicals. Eating too little protein will make it difficult for your body to maintain and repair muscle and other body components, thus delaying healing or putting you at risk for injury.
Beef, poultry, fish, lamb, pork, eggs, milk, cheese, dried beans and nuts are good sources of protein. A meal or a snack that includes a source of protein after a couple of hard runs down the mountain will keep those muscles in good condition. To plan a couple of fast, easy and nutritious meals at the office after skiing, try this: Keep salad greens, deli meat, a couple of pieces of fresh fruit, yogurt and cheese in the office refrigerator. Also, stash some whole grain bread, whole grain crackers, nuts, nut butters and canned fruit packed in juice or water. Milk also is an excellent recovery food because it contains water and protein.
Zinc
Zinc plays many roles in the body. It participates in energy production, it supports the immune system and makes wound healing and injury recovery possible. Beef, chicken, shellfish, pork and lamb are good sources of zinc.
Other good food sources include beans, nuts, whole grains, fortified breakfast cereals and dairy products. Take a Thermos of bean soup or chili to work for lunch for a good source of zinc. Have a small handful of nuts on your way home from work to take the edge off your hunger before your evening meal.
Vitamin C
All fruits and vegetables contain vitamin C. Excellent sources of vitamin C include green peppers, citrus fruits and juices, strawberries, tomatoes, broccoli, leafy greens, sweet and white potatoes, and cantaloupe. Vitamin C helps protect your body from oxidative tissue damage. And, just like zinc, it is a nutrient that is important for maintaining a healthy immune system and supporting wound healing.
Fruit can be added to many different foods. Top cereal, pancakes and waffles with blueberries or sliced peaches. Add chopped strawberries or mandarin oranges to a bowl of salad greens. A close friend of mine loves peanut butter and banana sandwiches. Can't go wrong there, either.
Omega 3 fatty acids
These heart-healthy fats are found in nuts, flax seed, canola oil, olive oil and fatty fish such as salmon or trout. Omega 3 fatty acids work to reduce inflammation, support healing and reduce your risk for heart disease. Choose salad dressings that use olive, canola, or flax seed oils as a base. Add avocados, nuts or olives to salads. Use olive and canola oils for most cooking.
Some of the above-stated ideas can help you stay healthy, support recovery from a hard day of skiing or work, and support healing if you should become injured. Many of you may participate in other sports and recreational activities throughout the year. Whether you are involved in a sport, make it a point to eat healthy. Remember, healthy choices usually are within arm's reach. Make it so. Plan your days with informed choices in mind, and make them readily accessible. Plan your diet, and eat your plan!