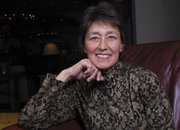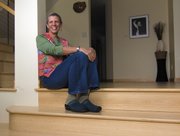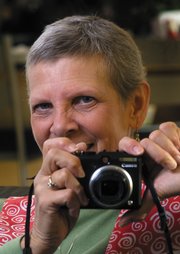 Karen Schulman's initial breast cancer diagnosis came as a shock, but the new outlook on life the experience has given her may have been worth the hardship it brought.
"Most of the time, believe it or not, I feel grateful that this happened to me," Schulman said recently.
On April 12, 2007, Schulman was diagnosed with invasive lobular carcinoma. She underwent a double mastectomy two weeks later, with chemotherapy and radiation to follow. Whenever she gets stressed, her experience with breast cancer serves as a reality check.
"I think, 'So what? You had breast cancer, you're alive,'" Schulman said. "What if I wasn't here?"
One recent morning, a dream inspired Schulman to set some time aside for herself and get back to her art. Schulman printed out a photograph taken while she was having her head shaved in preparation for chemotherapy, pulled out a blank sheet of paper and new watercolors, and channeled her creativity in her home studio.
"I have to take responsibility for myself if I want to live a long life," she said. "Yes, I take my meds, and today I'm going to take out my paints."
Breast cancer is the second most common form of cancer for women in the United States, behind skin cancer, and ranks behind only lung cancer as the leading cause of cancer-related deaths for American women. The American Cancer Society estimates there are 2.5 million breast cancer survivors in the U.S., and it expects 178,500 new cases to be diagnosed each year.
Many patients struggle with the multitude of life transitions while receiving care for breast cancer, says Jan Fritz, clinical nurse coordinator for the cancer program at Yampa Valley Medical Center. Fritz monitors and oversees all aspects of patient care, from coordinating visits with the oncologists to setting up testing and X-rays.
The hospital typically has about 30 cancer patients receiving active treatment at any given time, in addition to many more survivors undergoing ongoing monitoring and follow-up care, Fritz said.
After the initial diagnosis, daily radiation therapy is a particularly difficult time for many patients, because every day becomes structured around getting treatment, Fritz said.
"It's the impact on what is normal in your life - all of a sudden there isn't a 'normal,'" Fritz said. "All of a sudden you're thrown in this huge, unexpected happenstance, and your world is upside down."
Radiation therapy can be even more difficult for people who live in Steamboat Springs, because there are no facilities in the Yampa Valley with equipment to offer the treatment.
During her five weeks of radiation therapy last fall at Rocky Mountain Cancer Centers of Denver, Schulman relocated to Golden. During her treatment, Schulman lived in the 22-foot motor home she and her husband had used for vacations, most recently to Canada.
Despite having to put her job and her life in Steamboat on hold during radiation, Schulman enjoyed her time in Denver. Schulman works as a photographer and offers workshops and photography tours through her business, Focus Adventures.
Her time in the Denver area gave her a chance to focus on her photography, instead of the accounting and scheduling side of her business that typically takes up most of her time. She recalled spending days shooting, often at the Butterfly Pavilion in Westminster.
"It was actually fun because I joined the art museum there and saw lots of friends in Denver," Schulman said. "I swam every day - I lived in an RV park with a beautiful pool.
"Though I didn't feel completely well, I felt so much more in balance, because I put aside so much of my work."
Steamboat resident Lynda Brees, who was diagnosed with breast cancer in March 2006, opted to return home to Columbus, Ohio, for radiation treatment this fall. Brees underwent two surgeries and chemotherapy at Yampa Valley Medical Center last year before her cancer returned in the spring.
One of the huge upsides of her radiation treatment was that she felt well enough during her treatment to enjoy the time with her family, Brees said. She finished her 33 radiation sessions Dec. 15 and returned to Steamboat, going back to work at her job at the Sheraton Steamboat Resort.
The nearest treatment to Steamboat is at the Shaw Regional Cancer Center at Vail Valley Medical Center, or in the Denver area, Brees said.
"Most people choose to go to an area where they have family or friends, so they can stay there," Fritz said. "They go where they have a support system."
Schulman chose to have her surgery and chemotherapy in Steamboat, where her friends and family are, rather than traveling to the Front Range.
"There's something to say about a community that cares," Schulman said. "I built my own support group, out of medical people, alternative medicine people, friends, my incredibly supportive husband, students, clients."
Schulman explored all angles during her treatment and recovery, from traditional medicine to as many alternative and holistic medicine routes as she could find in Steamboat, including dream interpretation and oncology massage, which helped calm her nerves during the stressful time between her diagnosis and her surgery.
"I could've fallen into 'Oh my God, am I going to die? How am I going to do this?'" Schulman said. "It would've just spiraled me down."
The huge variety in types of breast cancer and ongoing treatment advances don't make it easy on patients, who typically have "a thousand questions," Fritz said.
"They need to understand the disease. They need to understand why they're getting the treatment they are. They need to understand the medicines they're taking," Fritz said. "Sometimes people get a lot of information overload."
Dealing with breast cancer is not just a difficult time for the patient, but also for their friends and families, she said.
"There's a lot of anxiety, both for patients and for families," Fritz said. "Part of helping them through is giving them the information that they need to have as good of an experience as they can."
Finished with her treatment and partway through the reconstruction process, Schulman said her mind-body connection has become much stronger since her initial diagnosis and helped teach her what is truly important in her life.
"Where I am now is catching myself from going back into patterns that get me out of balance," Schulman said. "My work is important, but so is my art and my creativity, my friends and my family. I need to take a few hours away and go cross-country ski sometimes.
"As I feel stronger, I don't want to go backward," she said. "Today is the first day of the rest of my life."