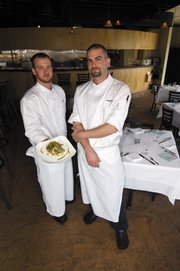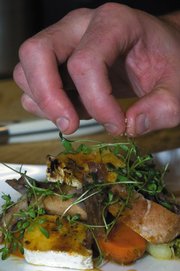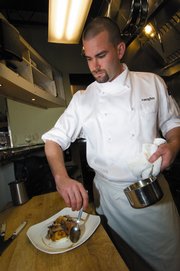 Recipe
Pheasant Confit
Ingredients
4 pheasant breasts
Sea salt
Slack pepper
Fennel pollen
Olive oil
Pheasant Confit
4 pheasant legs
2 cups kosher salt
2 cups granulated sugar
4 sprigs fresh thyme
2 tablespoons fennel seeds
2 quarts rendered duck fat
Vegetables
8 baby carrots, cleaned
8 slices fennel bulb, blanched in salt water
1 head garlic, crushed
Fresh thyme
Extra virgin olive oil
Sea salt
Black pepper
Maple syrup
To finish
Micro curly watercress
Pheasant glace
Sea salt
Maple syrup
MT TAM
Raw sugar
For the pheasant breasts, season with salt and pepper and sear skin side down. Remove from pan and sprinkle fennel pollen on the raw side. Place in food-saver bag with olive oil and vacuum seal. Keep refrigerated until ready to use. Vacuum sealers and bags for food are available commercially for a reasonable price.
For the pheasant confit, mix salt, sugar, thyme and fennel seed together and coat all sides of the pheasant legs. Refrigerate for 12 hours, then rinse legs thoroughly. Heat duck fat to 170 degrees and cook legs for five hours. Remove from fat and shred the meat very fine.
For the vegetables, toss in extra virgin olive oil and add salt and pepper. Place the vegetables, garlic and thyme in a roasting pan with a lid and cook in the oven for 1 1/2 hours. Remove vegetables and toss with maple syrup.
To finish the dish, place the vacuum-sealed pheasant in a water bath at 162 degrees for 9 minutes, remove the plastic bag and sear, skin side down, in hot oil to re-crisp the skin. Sprinkle sugar on three half-inch slices of MT TAM and caramelize with a torch. Place the pheasant confit in the center of the plate along with the vegetables and MT TAM. Slice the pheasant breast into three pieces and place on the vegetables. Top with micro curly watercress and drizzle pheasant glace and maple syrup around the plate.
Before they make your meal, the staff of bistro c.v. has already had its own.
In a nightly ritual intended to foster communication, ease nerves and prepare for the night ahead, restaurant owners and chefs Brian Vaughn and Kevin Caparrelli pull the staff together for a homestyle meal.
It's a tradition front-of-the-house manager Craig Bistrong calls the "best family meal you'll ever have."
"We try to relate to all of our staff like family," Vaughn said.
But the meals, though casual, also serve a business purpose. Vaughn and Caparrelli take the occasion to verse the staff on the night's specials and make other announcements.
"While being a family, we're still talking business," Caparrelli said.
Updating the staff is key at a restaurant with a menu as variable as bistro c.v.'s. The restaurant at Fourth Street and Lincoln Avenue in downtown Steamboat Springs gladly sacrifices consistency in favor of a menu that always features seasonal ingredients.
Therefore, don't expect to find the pheasant dish Vaughn prepared for At Home on the menu this winter. Vaughn said there will be something similar, but the pheasant, like everything else, is prepared for the moment.
"Game birds are really nice in the fall," Vaughn said in October, drinking spring water from a glass bottle as he demonstratively and naturally prepared the dish, which was finished with a tasty vanilla maple syrup. "I'm used to working really, really fast."
Bistro c.v. tries to purchase all its ingredients from Colorado, but as the weather turns colder, it's a difficult goal to realize.
"Getting into this time of year, it gets really hard to find Colorado produce," Vaughn said.
For example, the pheasants Vaughn prepared came from Wisconsin. Even when ingredients come from afar, however, Vaughn stresses that they are all certified organic and domestic products.
Vaughn and Caparrelli, childhood friends who have spent their entire professional lives as cooks, are not your typical restaurant owners in that both of them work on the line in the kitchen - every night.
"That's the reason we're not open seven days," Vaughn said. "We like to be here seeing things go out every night."
Despite their obsessive nature, Bistrong said the two are not hard to work for.
"They're not screamers," he said.
"We're pretty much the easiest-going chefs you'll ever find," Caparrelli added.
Bistrong shares the chefs'/owners' passion for perfection. His staff walks through the restaurant before it opens every night, examining even the minutest of details. Bistrong said he sometimes purposefully takes things off the tables to test his staff's attention to detail.