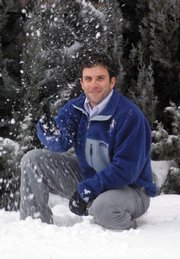 I sit at my office desk, waiting for the words to come. They don't. My mind is preoccupied - not with my work, but rather by the steady snow that falls silently outside the window. I'm giddy like a child as I watch the powder pile up during the afternoon. I've lived in Steamboat Springs a little more than five years now, and I'm still amazed at how life carries on despite our harsh winter weather.
Where I grew up outside of Washington, D.C., the teeniest trace of snow or ice canceled school and sent the greater metro area into a flurry of frenzied activity - fill up your cars with gas, stock up on milk and other essential food stuff, call your relatives to say goodbye in case you don't outlive the storm. It borders on the ridiculous, really. But in Northwest Colorado, snow has been a part of daily life for as long as man has called the Yampa Valley home. That said, our winters certainly were burdensome to the miners and ranchers who settled Steamboat Springs and the surrounding areas.
It perhaps wasn't until Carl Howelsen brought his love of skiing to Steamboat shortly after the turn of the 20th century that our deep snows were embraced for their recreational potential. Even then, Winter Carnival started as an excuse for area ranchers to trek into town and escape the cabin fever brought on by the long, cold winters. For the first time in months, the annual Winter Carnival celebration provided residents with motivation to gather with neighbors and friends to socialize.
By the late 1940s, Winter Carnival had become a decades-long tradition, and local families such as the Wilhelms had embraced the festival, making it part of their own family traditions with yearly participation and attendance. A young Patsy Wilhelm took part in her first Winter Carnival in 1949, starting a personal tradition that would continue annually until her death this summer. For nearly 60 years, Patsy was a mid-February Lincoln Avenue staple, sitting high upon her favorite horse and pulling an untold number of smiling children down Main Street. Patsy's own children and grandchildren have followed suit, and in so doing have kept alive the strong ranching connection to Winter Carnival that is often forgotten, even by those who have called Steamboat Springs home for many years. As Patsy's son Rick Wilhelm reminds us in an interview on page 51 of this issue of At Home magazine, our ranching and agricultural heritage are inextricably tied to not only Winter Carnival, but to so much else of what makes Steamboat Springs what it is, and what we hope it will continue to be.
But like the face of Lincoln Avenue and the base of the Steamboat Ski Area, ranching and agriculture are changing here. Families like the Wilhelms have found ways to hang on in the face of changing economies, adapting to the new way of life in the Yampa Valley. The one constant seems to be the snow, which still falls and accumulates on old fence rails and new SUVS. We check the ski report each morning, and the weather forecast each afternoon. We look to the sky and hope for more. And life - albeit different now - carries on.
- Brent Boyer