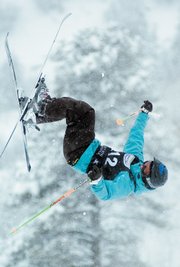 The heavy snowfall that buried, and re-buried, the Voo Doo ski run at the Steamboat Ski Area was a bit of a Catch-22 for the coaching staff hosting this weekend's Lando's Mojo Bump Bash.
On one hand, there was a lot of hard work just to get the course ready. But the heavy snowfall also meant that skiers were ready to put down some of their biggest and best runs of the season thus far.
"After the kids slipped the course, there was about 300 pounds of snow per jump to shovel," said Steamboat Springs Winter Sports Club freestyle program director Erik Skinner, who could have detailed the amount of labor down to each 65-pound bag of pine boughs used to make sure the junior mogul bashers could see their landings.
But instead, Skinner was all smiles on Saturday afternoon as the sun poked through and the skiers competing in the second day of the USSA Rocky Mountain Division event began their second runs in the single moguls event.
"It's so fun because it's so soft you can just rip it and not worry about it," said Steamboat's Ryan Dyer. "It's so rare and so fun - you can take your airs bigger and more confidently in the air to stomp them."
Dyer, bouncing back from an ankle injury and competing in his first moguls event of the season, stomped the backflip X of his second run Friday to finish in second place. On Saturday, he was sitting third after one run and knew he'd need another clean landing off his second jump.
Unfortunately, he also knew that with the massive bumps formed with the new snow, "if you get back, you get bucked."
On Dyer's second run, he hit the second jump with a ton of speed, wowing his peers atop the run, but overshooting the landing enough to result in a third-place finish.
It wasn't Steamboat's only podium finish of the day.
Although Kara Johnson had qualified for this weekend's NorAm Cup event in Mont Gabriel, Quebec, she decided to stay home for the purpose of "working on my airs and getting my package together," before the next two NorAm events.
Johnson took third Friday and continued improving Saturday, finishing as the top overall female.
"I finally flowed through everything," Johnson said after her second run.
Skinner was pleased with the overall performances of Steamboat's 24 junior athletes from J3 ages (13-14) and up, earning USSA points toward junior nationals qualification.
"Instead of two- to three-foot bumps, it's more like seven- to eight-foot bumps, it's the real deal, these things can eat them up," Skinner said. "It's awesome how they've adapted."
Other notable Steamboat finishes on Saturday included Camille Bucci in 5th, Alison Crowe (6th), Alyssa Roche (8th), Shelby Dyer (12th), Jessica Mader (13th) and on the men's side, Dalton Lee (4th), Michael Degrandis (5th), Lars Johnson (6th) and Colton Harding in 13th.
The Bump Bash event, held in honor of former Winter Sports Club and University of Colorado freestyle skier Landon Sawyer, concludes today with a dual moguls event from 10 a.m. to 3 p.m. on Voo Doo.