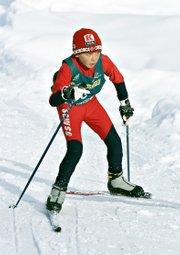 Steamboat Springs — Gary Crawford remembers the days when he was a junior Nordic ski jumper.
Back in the early '70s, the Steamboat Springs native and eventual two-time Olympian could criss-cross the state, taking on Nordic combined competitors in the Rocky Mountain Division on their own home jumps, from sites in Winter Park and Frisco to Aspen and Durango.
But now, the Nordic jumps at Howelsen Hill are the only remaining jumps in Colorado that play host to such competitions.
So, a Rocky Mountain Division ski jumping and Nordic combined competition, like the one that took place at Howelsen on Friday and Saturday, is a bit of a misnomer. For the most part, other than skiers from Park City, Utah - who compete in the Intermountain Division - the Steamboat skiers are largely left to duke it out amongst themselves.
But the J2 junior age division, in which the races were for berths to the 2008 Ski Jumping and Nordic Combined Junior Olympic Championships in Ishpeming, Mich., featured the day's most serious divisional competition.
After a morning of jumping on the HS 75, Steamboat's Cliff Field had a leg up on the J2 field - skiers ages 14 and 15 - heading into Saturday afternoon's Gunderson-format, interval-start 5K skate sprint. But Aspen skier Michael Ward, whose father Craig has helped him and a few other junior athletes learn to Nordic jump on a homemade hill, wasn't far behind.
Ward "jumped better on the (HS 75) than I've ever seen," said Crawford, now the Steamboat Springs Winter Sports Club's head Nordic development coach. "I guess they only have a 15- or 20-meter jump to train on."
Field had a 32-second advantage to start, but as the pair rounded out its first of two laps, coming back into the Brent Romick Rodeo Arena grounds, Ward had cut the lead to six seconds.
"I really thought he had me," said Field, who pushed hard on the second lap to regain a healthy lead for the win.
"I think I went out too fast," Ward said of the race.
The top four racers - Field, Ward and Steamboat skiers Erik Lynch and Aleck Gantick - all finished the cross-country race in the same top-four order in which they landed their jumps. Now, with another solid finish (above 80 percent of the top finishers' point average), these racers can secure their junior Olympic berths.
"It's good to see a good race between (Field) and Ward," said Taylor Fletcher, who recently qualified for the 2008 FIS Junior World Championships. Fletcher won Saturday's 7.5K race for the J1/Senior class and rushed over to congratulate Field after his win.
"In Steamboat, we really have it handed to us with the facilities we have, so it's good to see them progress, especially with (Ward) out here to help push our skiers," Fletcher said.