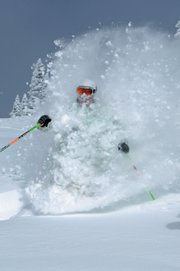 Tom Ross
Tom Ross' column appears in Steamboat Today. Contact him at 970-871-4205 or tross@SteamboatToday.com.
Find more columns by Tom here.
Steamboat Springs — If you're on your way up to the ski hill this morning, you might swing by Old Town Hot Springs and see if they'll loan you a pair of those nose clips that synchronized swimmers can't seem to do without.
The dangers of getting snow up your nose are significant this time of year, and not to be trifled with. I should know.
The editor assigned me to conduct a detailed snow survey on Mount Werner on Friday morning. It was awfully cold and windy up there, but I decided that in terms of enhancing my image as a team player, it was in my best interest to accept the assignment.
Generally speaking, I don't mind taking on the difficult chore of powder skiing. But there are times when it's a little much. Have you noticed that when the snow gets really deep at the Steamboat Ski Area, a person can get their nostrils plugged with snow?
It happened to me a couple of times on Friday morning. It was most vexing.
The Steamboat Ski Area was reporting 17 inches of snow in the preceding 24 hours on Friday afternoon, with something like 32 inches in the past 36 hours. At midday Friday, an additional 7 inches had fallen on top of the 25 inches recorded at the summit of Storm Peak on Thursday.
Friday's snow wasn't bottomless, but the powder was hard to avoid. Anyone willing to explore the nooks and crannies of Mount Werner could link six untracked turns before moving on to the next powder pocket.
I started out Friday with a quick warm-up on upper Vagabond, then veered to my right and found a little untracked 'der on the right side of Surprise. There was no waiting at Storm Peak Express, so I headed for a little meadow in The Closets that most skiers blow by without ever noticing.
The snow-caked spruce trees on Storm Peak resembled Druids in white cloaks. I stuck my ski tips between two Druids and when the drift on the other side blew up, I instantly had snow in my nostrils. I almost gagged on the powder.
With my legs fully warmed up, I headed for Whiteout, where I have crashed and burned so many times throughout the years.
If your orthopedic surgeon has informed you that your days in the bumps are finished, it's time to demonstrate a little defiance. The "hero snow" that fell on Steamboat this week has rendered the moguls on Whiteout harmless.
They'll never be softer than they are right now. So, give them a try - you'll feel like a super hero. Invite your orthopod to join you.
As much as I enjoyed Whiteout, my favorite runs of the morning were on Tornado, which was almost empty of skiers and still had untracked lines to ski at 11 a.m. Tornado was groomed within the last week, so there are no bumps to contend with whatsoever. If you're looking for a big-time powder cruise that's challenging, but won't beat you up, Tornado is your ticket today.
There has been a good deal of discussion about snow conditions around our lunchroom at the newspaper this week. Most people want to know if this blast of snow has exceeded what we experienced in the winter of 2005-06. That was the season Steamboat finished up with a remarkable 432 inches of snow.
My answer to the question is, "Sometimes, the sheer volume of snow isn't as important as how and when it arrives."
The biggest difference between this season and the early winter of 2005-06 is the month of November. Steamboat saw a record 83 inches of snow in November 2005. Of course, Steamboat saw negligible snow in November 2007.
So, in spite of 126 inches of snow in December 2007 (compared to 105 inches in December 2005), we're still playing catch-up.
Who gives a flake? When you zoom down Whiteout today, you won't care that we didn't have any snow in November. All you need to know is that the snow right now is primo beaucoup (that's French for "mighty fine").
Have fun this weekend. And be sure to ski with a companion, just in case you get snow up your nose and need immediate assistance.
Tom Ross is a longtime Steamboat resident. His column is published Tuesdays and Saturdays in Steamboat Today.