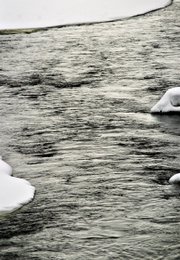 On the 'Net
View a water quality database for the Eagle River at http://co.water.u...
Routt County and the city of Steamboat Springs hope to develop a similar database for the Yampa River Basin.
Steamboat Springs — For Mike Zopf, there's one simple reason why the water quality in the Yampa River Basin should be monitored better.
"You can't manage a resource that you don't fully understand," said Zopf, Routt County's director of environmental health. "Right now, we're not able to do that."
For that reason, Routt County and the city of Steamboat Springs are moving forward with their joint efforts to increase water quality monitoring on the Yampa River by requesting a $106,600 grant from the Colorado Water Conservation Board.
The grant would help fund the consolidation of available water quality information into a readily available format, an assessment report on both water quality and quantity and the development of a monitoring plan. The Yampa/White River Basin Roundtable, a group that addresses water issues in Northwest Colorado, has unanimously supported the grant request.
"We want to develop monitoring devices in the Routt County portion of the Yampa River Basin and hopefully monitor water quality on a continual basis," Zopf said. "We want to be able to track changes in water quality over time. : This study ultimately, and the monitoring that takes place eventually, will give us a better idea of what the overall water quality is."
The U.S. Geological Survey would be contracted to perform the work. David Litke, a database and GIS specialist with the USGS said there is plenty of water quality data already available; the challenge is organizing it.
"There's data spread out all over the place," Litke said. "But it's often hard to find the data. We've got together with several watershed groups to gather data into one database."
After the existing data is consolidated, Litke said the USGS would identify gaps and recommend locations for additional water monitoring devices. In the end, all the information will be available on the Web for anyone to access. Litke said the Web site's main users would be government workers but said the information would be useful to the public as well, for example, if someone is suspicious about a discoloration in a stream and wants to make sure the water is safe.
"It gives them a place to go to try and figure out what information is available besides just rumors," Litke said.
Geoff Blakeslee is the local representative to the Colorado Water Conservation Board and a voting member who will help decide whether the city and county's grant will be approved.
"I am supportive," Blakeslee said. "I don't see how we consider future water uses without understanding water quality issues."
Blakeslee said that the conservation board has never dedicated money from its "water supply reserve account" for a water quality project, but he noted that the fund is relatively new and that he thinks this project meets the requirements for approval.
"This is an important piece of the entire puzzle as far as water supply for our future needs," Blakeslee said.
Former Steamboat Springs City Councilman Ken Brenner, an outspoken advocate for water quality issues and a potential candidate for the state Senate, stressed that the project would monitor both ground and surface water.
Zopf, Blakeslee and Brenner all noted the possibility of water from this basin potentially being diverted to another. The Northern Colorado Conservancy District, for example, has financed a study exploring routes to pump water from the Yampa River near Maybell across the Continental Divide to the Front Range. Brenner said any such project would have to take water quality into consideration.
"Any time you reduce water quantity, you diminish water quality," Brenner said.
Zopf said enhanced water quality data could influence other public policies such as future land-use decisions in the city and county.
- To reach Brandon Gee, call 871-4210
or e-mail bgee@steamboatpilot.com