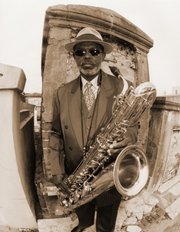 Past Event
Sunday, January 13, 2008, 6:45 p.m.
Steamboat Ski Area, Mount Werner Road, Steamboat Springs
Not available / $15
Steamboat Springs — For more than 30 years, the Dirty Dozen Brass Band has introduced music fans to the New Orleans street band tradition by way of funk, jazz and pop music, blending what they like from the present with what they love from the past.
On Sunday, the band will perform at the Ski Jam in Steamboat Springs. Baritone saxophonist and original band member Roger Lewis said Colorado is one of the band's favorite places to play. As a top party act, Dirty Dozen has an easy appeal to audiences outside of the Crescent City.
While the band has made a career of asking how funky we can get, Lewis said Dirty Dozen is about serious musicianship, too. On its last album, the band drafted the help of Chuck D, G. Love and Guru to remake Marvin Gaye's soul classic, "What's Going On" (the album was a reaction to the governmental fumbling of Hurricane Katrina, a storm that wiped out several band members' homes).
Lewis took a while to get situated with the phone, putting in an earpiece, yelling to someone in the background about lunch, and finally settling in with, "Let's make it do what it do." He talked with 4 Points about his years on the road, preserving tradition and making music that can make anyone dance.
4 POINTS: You're one of the original members of the Brass Band. How did you first start playing this kind of music?
ROGER LEWIS: I've been in this band for a little over 30 years. I used to play with Fats Domino Band. You ever heard of the great Fats Domino?
4 POINTS: Yeah, I've heard of Fats Domino.
RL: Well, for how I started playing with this band, it's really kind of a long story, so I'm going to try to shorten it up.
I came home from California some years ago, in 1975 or 1976. I met a guy on the corner one night, and he asked if I wanted to play in this band with him. I came up playing in clubs, but hadn't ever really played in the streets.
So I said, "Yeah man, I'm not doing nothing. So yeah, alright," and that was my first introduction into playing brass band music. Now that's not necessarily to playing New Orleans music, because everyone plays New Orleans music.
The story is more detailed than that, but you and I would be talking from now until next week if I told the whole thing.
4 POINTS: By keeping the band together for this long, do you feel like you're preserving this kind of music and New Orleans culture?
RL: Of course. Well, everybody that plays brass band music is preserving the sound of New Orleans, and there are a lot of young guys coming up.
We're just passing the torch, as it was passed up from generations of other musicians. The difference between our band and the bands of old, is we incorporate new sounds in our music - so we play songs by Michael Jackson and Thelonious Monk, John Coltrane and Stevie Wonder.
4 POINTS: How does that change the sound?
RL: We incorporate those sounds in with the traditional sounds of New Orleans music, which is gospel music, really, played in the church. That made for a difference in the sound of New Orleans music, which kind of reinvented the sound.
It's like a reconstruction of New Orleans music, played by the younger generation - well, the other ones are younger, I was always the oldest.
4 POINTS: How many original members are left in the band?
RL: There are only three original traveling members. I've been a traveling road musician all my life. I've been a traveling road musician for over 40 years.
4 POINTS: What do you like about being on the road?
RL: The scenery. I don't like to be in one place for too long. I get bored, and I like to meet different people.
4 POINTS: Do you find that audiences identify with New Orleans music, outside of the city, like in Colorado?
RL: Our biggest fan base is in Colorado.
4 POINTS: So you like playing here then?
RL: We love Colorado. Sometimes driving, coming across the pass, without any guard rails, I get freaked out - I can't get used to it - but other than that, the people love us in Colorado, we play there at least twice a year.
4 POINTS: What do you think people hold on to from your music?
RL: We incorporate a lot of different things. Variety is the spice of life. Everybody don't like sliced bread, some people like wheat bread, some people like raisin bread, so we try to play a little bit of everything.
Our audience ranges from 5 to 85, and we're trying to cover all bases - we're one of greatest party bands there is.
We have novelty along with serious music also. We are serious musicians, but we like to have fun, and we try to relate to everybody's needs.
These people, they've been working all these bull---- jobs all week, and they come out and want to shake something.
It's like a big musical gumbo, 'cause in a good gumbo you've got all beautiful and good ingredients. It's music for your mind, body and soul.