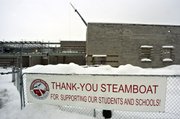 Steamboat Springs — Heavy December snowfall may have been a boon for local skiers and snowboarders, but the severe winter weather caused some hiccups in the Steamboat Springs School District's construction plans.
But the nearly $30 million construction projects, which include the expansion of Strawberry Park Elementary School and the construction of a new Soda Creek Elementary School, remain on schedule despite the inclement weather.
"Soda Creek was able to get up and out of the dirt with concrete floors and steel just prior to the onset of snow," said Todd Ficken, project manager for the district's construction projects. "Strawberry Park did not get out of the dirt before the snow started flying, but nevertheless, dirt work is moving forward."
Construction at Strawberry Park is a two-phase project. Six modular classrooms will be replaced by a 10-classroom addition, which will be done independent of school activities. Once school lets out for summer, workers will start replacing the school's heating and ventilation system.
Ficken noted that unseasonably dry, warm weather in the fall allowed construction at the elementary schools to get ahead of schedule before the December snowfall.
"When you got 5 feet of snow on the ground, of course you are not as efficient as working in the summer," he said. "But it's not pushing back our end date : for a while, it seemed like we were never going to get any snow, which is great for workers."
Ficken said he expects both projects to be completed before the 2008-09 school year.
As workers lay exterior brick to the nearly completed frame of Soda Creek, Ficken said the community will soon be able to visualize what the completed elementary school will look like.
"I just drove by it today, and I just kind of stared at it for a second because it looks so nice," said Steamboat Springs School Board member Laura Anderson. "We are all hopeful it stays on schedule and on budget. We are really happy with everyone's efforts to date."
Roofing of the school's northern half will soon begin, while interior walls are already taking form. Plumbing, mechanical and electrical work is also progressing at Soda Creek.
At Strawberry Park, workers are pushing to get structural steel erected to begin roofing efforts, while some partition framing has begun.
"It's all moving along really well, and everyone is pretty pleased," Ficken said.
- To reach Mike McCollum, call 871-4208 or e-mail mmccollum@steamboatpilot.com