More on Wall
Read all stories related to
Routt County Sheriff Gary Wall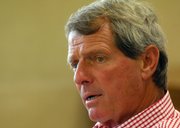 Steamboat Springs — The loss of his driver's license has not impeded Gary Wall's ability to perform his duties as sheriff, an official with the Routt County Sheriff's Office said Thursday.
"He's here every day," Investigator Ken Klinger said.
Klinger also dismissed the potential concern that Sheriff's Office resources are being used to address the situation. Klinger said Sheriff's Office employees are not ferrying Wall around town.
"I can assure you that's not happening," Klinger said. "He's very careful about that because that wouldn't be right."
Wall was at a conference in Denver on Thursday. He did not return a message left on his cell phone.
Klinger also noted that the lack of a driver's license is not as large of a burden for Wall as it would be for other Sheriff's Office employees, due to the administrative nature of Wall's position.
"His duties are (at the Sheriff's Office) and at the county commissioners," Klinger said. "It's not like he needs to be out running traffic."
The Colorado State Patrol revoked Wall's license in October because he refused to take a chemical breath test after being pulled over at Walton Creek Road and U.S. Highway 40 for a failure to dim his headlights. Wall was subsequently cited for driving under the influence.
Wall appealed the revocation to the Colorado Department of Revenue and was given a temporary license. But, in a Dec. 19 hearing, Department of Revenue officer Art Julian upheld the State Patrol's yearlong revocation.
Wall has the option of appealing that decision in Routt County District Court, Department of Revenue spokesman Mark Couch said Thursday. Employees in the clerk's office at Routt County Court said the decision has not yet been appealed, but noted Wall has up to 30 days to do so.
If Wall is convicted of DUI in a criminal trial, he faces an additional yearlong loss of his driver's license.
Earlier this week, prosecutor Karen Romeo said her investigation of the case had wrapped up, the results had been shared with Wall's attorney Ron Smith and the negotiation of a possible plea agreement would begin by the end of the week. Romeo would not say whether she will entertain dropping the DUI charge as part of an agreement.
Also by the end of the week, Romeo said she would decide whether or not she will be requesting a change of venue for the trial, scheduled for 8:30 a.m. Wednesday in Routt County Court. Messages left at the offices of both Romeo and Smith were not returned Thursday.
Whether the venue changes for a potential criminal trial, the judge will change. Routt County Judge James Garrecht has presided over the case thus far to see it through the preliminary stages. During Wall's first court appearance in November, however, Garrecht said that he would recuse himself from the case when it moves forward due to the court's close working relationship with the Routt County Sheriff's Office.
The 14th Judicial District also recused itself from the case to avoid the same perceived conflict of interest, which is why Romeo, assistant district attorney for the Fifth Judicial District, was appointed special prosecutor.
The Sheriff's Office initiated an internal affairs investigation following Wall's citation for DUI. Klinger said the investigation is not yet complete. Upon completion, the results of the investigation will be turned in to Undersheriff David Bustos.
- To reach Brandon Gee, call 871-4210
or e-mail bgee@steamboatpilot.com