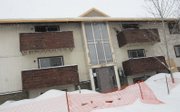 Craig — Early May is the goal for completing reconstruction on a Craig apartment complex that caught fire in September 2007.
Jim Daugherty, member manager with Jay and Jay properties, said work is under way to replace the roof at the 485 Washington St. apartments, as well as repairs to several of the 12 units in the apartment complex that were damaged in the blaze.
"The first three units is where most of the damage was," he said. "But we're replacing a whole bunch of stuff because of smoke damage."
The fire broke out in the morning hours of Sept. 13, 2007, and injured a tenant in the building, as well as a Craig Fire/Rescue firefighter who reported to the scene. It is believed that a personal oxygen tank, found inside the injured woman's unit, was part of the cause of the fire.
The fire displaced 11 families in the complex, and though the majority of the base structure remained intact, the roof was visibly damaged, and charred wood and broken glass were part of the scenery left in the blaze's wake.
Daugherty said the families living in the complex found new residences within a couple of weeks, adding the efforts by Red Cross and the Community Budget Center "were huge."
Reconstruction work on the building began in December, and most of the contract work is through local companies.
"It would have been easier to work with a big company : but it is so much better to work with local contractors because it is so much easier to communicate," he said.
The general contractor on the reconstruction effort is Lost Creek Log; the framing crew is Bonn Wood Products; the plumbing crew is Masterworks Mechanical; and electric is Pro Electric - all of which Daugherty points out are Northwest Colorado-based.
"We got a good bunch of local crews together, and they're really going all out," Daugherty said.
He is using an out-of-town engineering firm: Lutz Engineering.
He also noted the contributions of Western Slope Truss Co. and Western Slope Builders.
Daugherty said no plans are in place to change the apartment complex's layout, but that that does not mean other improvements will not be made. Instead of the current brown-beige tones, there will be a new color scheme. What that will be remains a mystery.
"We'll leave that as a surprise," Daugherty said.
Jerry Raehal can be reached at 824-7031, ext. 204, or jraehal@craigdailypress.com