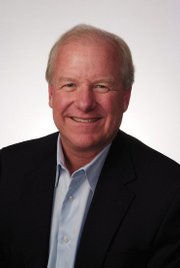 Steamboat Springs — Bill Jensen, who will become the new CEO of Intrawest ULC on June 1, is a "road warrior" whose management style drives him to form one-on-one relationships with team members, according to longtime associates.
"Bill is a hands-on, walk around, person-to-person manager," said Michael Berry, president of the National Ski Areas Association. "I see him as a true road warrior."
Intrawest, parent company of Steamboat Ski and Resort Corp., as well as 10 other ski resorts, announced the hiring of Jensen as its new chief executive officer Tuesday.
Jensen will leave his role as chief operating officer of Vail Mountain to assume his new role. His duties also included oversight of Vail Resorts' Beaver Creek, Breckenridge, Keystone and Heavenly, Calif., as president of the company's mountain division.
He replaces Alex Wasilov, who held the lead post at Intrawest for just 15 months, a period that included Intrawest's $265 million purchase of the Steamboat Ski Area in March 2007. Also during Wasilov's tenure, Intrawest purchaser Fortress Investment Group transitioned Intrawest from a publicly held company to a private company. Wasilov will return to his role on Intrawest's board of directors.
The transition signifies the return of a traditional ski industry manager at the top of Intrawest's corporate pyramid. Wasilov held top posts with Xerox and Kodak before coming to the Vancouver, B.C., based Intrawest.
Blending in
Andy Daly, the former president of Vail Resorts, lured Jensen from Northstar-at-Tahoe to become chief operating officer at Breckenridge. He said Jensen has the ability to blend into mountain communities.
"Bill is very thoughtful and formed wonderful relationships in Breckenridge and developed a long-term vision for that resort," Daly said. "He performed so well that they brought him in to take Vail. He is financially savvy as well as guest-oriented. He has a great combination of skills to drive the hospitality and recreation business."
In terms of the "Front Range" ski resorts competing for day skiers along Colorado's Interstate 70 corridor, Jensen jumps from the twin behemoths of Vail/Beaver Creek and Breckenridge to Copper Mountain, located geographically and figuratively between the Vail Resorts flagships.
However, Berry and Daly downplayed the competitive intrigue among Colorado ski resorts. Berry said that although competing ski resorts guard proprietary information and are constantly seeking an edge over one another, there aren't that many secrets in the industry.
"The 'edge' exists for a period of time from concept to reality," Berry said. "But there aren't too many closely held secrets."
Top of his game
Berry hired Jensen to become the lift department supervisor at Sun Valley in the winter of 1977-78. Their professional relationship continues; Jensen leads the board of the National Ski Areas Association.
During his tenure at the NSAA, Jensen has been intent on increasing the industry's understanding of its customer base, Berry said.
"I think Bill's focus is to continue to do the research so that we understand the demographics that will influence the market over the next 10 to 15 years," Berry said. "He wants to know where our customers will live and what their expectations will be. That fits in with his intense focus on customer service."
Jensen will relocate from the Vail Valley to Vancouver and expand his focus from overseeing a few large ski resorts to 11 scattered across North America.
"It's definitely going to be a transition," Daly said. "The key is making sure he gets good people to run the different resorts - people who complement his style and embrace his values. In Steamboat you have an outstanding guy in Chris Diamond. I anticipate that he will be a pillar of strength for Bill."
Berry said candidates for jobs such as CEO of Intrawest represent a select few - perhaps a smaller group than the owner of an NFL football franchise has to consider when looking for a head coach.
"It's no surprise that Bill had this opportunity. Bill is at the top of his game right now," Berry said. "He is one of a very few supremely qualified candidates."
Jensen said through an intermediary Wednesday that he is looking forward to working with the Steamboat staff, but expressed his reluctance to talk about new directions at Intrawest or strategic initiatives he might be contemplating until his transition to the new post is complete.
- To reach Tom Ross, call 871-4205
or e-mail tross@steamboatpilot.com