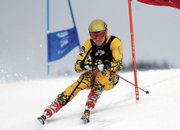 Steamboat Springs — If University of Colorado skier Lucie Zikova just continues to have fun, it could be a banner year for the Buffaloes senior.
Zikova, a six-time All-America and national champion, moved one step closer to setting the Buffs all-time record for wins by a skier with a dominate performance Sunday night in the Colorado Invitational slalom race at Howelsen Hill.
Zikova picked up her 11th individual championship, just two shy of the record held by cross-country racer Per Kare Jakobsen.
"I don't have a lot of goals, I just ski for fun," Zikova said after finishing with a two-run time of 1 minute, 23.48 seconds, almost two full seconds better than New Mexico's Malin Hemmingsson. "My goal is to have as much fun as I can and for the team to do well."
In the first run, Zikova attacked the course, giving her almost a full second lead heading into the second run.
With snow starting to fall sideways, visibility on the course was at a premium. Nonetheless, Zikova continued to ski well, putting together the fastest second run as well.
"I don't think about it too much," Zikova said of the conditions. "I mean if you're a good skier, you can ski in anything. I don't put much thought into that. It's just go as fast as you can."
Karin Ohlin from New Mexico finished third, while former Steamboat Springs Winter Sports Club members Lisa Perricone and Heidi Hillenbrand finished further back.
Hillenbrand was third after the first run, but fell during her second run and the fall dropped her standing.
On the men's side, Saturday's giant slalom winner John Buchar from the University of Denver put together a blistering second slalom run to take his second straight top finish.
Buchar sat in seventh place after the first run, trailing Utah's Thomas Zumbrunn by a full second.
But in the second run, Buchar - who finished with a time of 1:13.72 - said he felt little pressure because he was so far back and because of the previous day's finish.
Where others struggled in the upper and middle parts of the course - mostly because of the limited visibility, Buchar attacked the tricky terrain.
He finished his second run in 38.20 seconds - the fastest of the night - to put him on top.
Zumbrunn finished second in 1:13.88, while Nevada skier Cameron Barnes finished third with a time of 1:13.99.
"If you're winning after that first run you have that in the back of your mind when you're coming out of the gate," Buchar said. "I was lucky to have a clean run with no mistakes. When you go 100 percent you usually have small mistakes, but I had a clean run."
Former Steamboat skiers Tony Cesolini, Josh Bryan and Drew Roberts all made the top 30 to compete in the second run and helped Colorado score points.
"It's nice to come back here," Bryan said. "It's nice to come back in front of the fans and everyone."