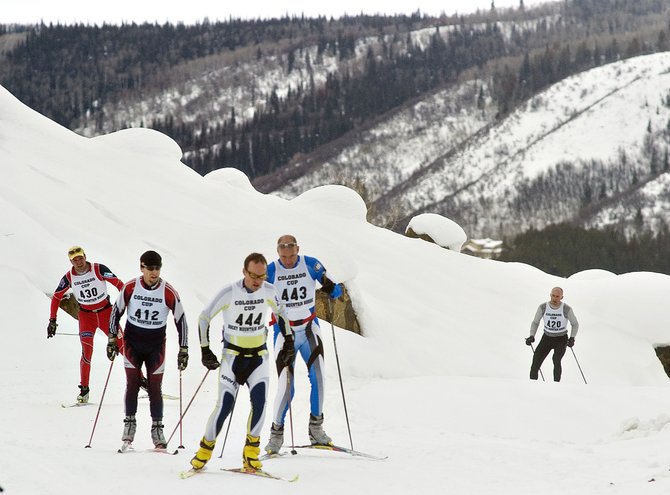 Steamboat Stampede attracts skiers of all ages and abilities
Steamboat Springs — Deb Rose wore a couple of hats during Saturday's 23rd annual Steamboat Stampede.
First, the Steamboat Springs Winter Sports Club's head development coach for cross-country skiing had to make sure the club's crop of competitors -which numbered about 25 - were ready to race. Then, she had to put on her race hat to compete in the women's 23K skate event.
The Steamboat Stampede consisted of 11 races and was many things to many racers. The Stampede combined two Colorado Cup distance races of 23 and 42 kilometers (with divisions for men and women in both skate and classic disciplines) with the second of five local Nordic Challenge series races, which had three shorter distance race loops of 3K, 5K and 10K. The Colorado Cup is a statewide series of 12 Rocky Mountain Nordic citizens races that scores racers cumulatively throughout the season.
"I don't worry about the points," Rose said modestly after crossing the finish line as the top 23K women's finisher. "It's just coming out and giving the kids a good example of competition and the fun of getting out and taking away their fear of racing."
Although many of the smallest skiers were more interested in the prize giveaways than dissecting the top finishers' techniques, Steamboat skiers like Max Scrimgeour were smiling about their races.
The 13-year-old one-upped his former teammates on the sizable Boulder Nordic Junior Racing Team by posting the fastest time in the 5K race.
Adult Boulder-area racers such as Chris Grauch and Jason Albert, who are Colorado Cup circuit regulars, were pleased with the slightly lower elevation of the course and the glide afforded by wet trails wrapping around the Steamboat Ski Touring Center from the morning rainfall.
They were not, however, too pleased with falling behind 23K race winner Shawn Scholl of Kremmling.
"Shawn's an animal on the flats and with the double poling," Grauch said.
Other skiers were happy just to get some exercise on familiar terrain. Steamboat Springs residents and U.S. Nordic Combined B Team members Alex Glueck and Alex and Davis Miller took the opportunity to race the 23K and get a little distance training before heading to a World Cup B event Tuesday in the Czech Republic.
"A 23K is my first long race, so it helps you not die in those shorter races," Alex Miller said.
"I'm used to 80 guys in a 7K sprint, so here you can relax and ski your own race," Glueck added.
The next Nordic Challenge race is the Jan. 20 Howelsen Hill Climb. Visit www.steamboatxcski.org for details.