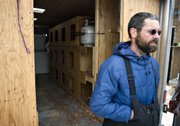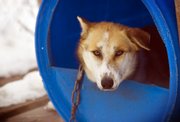 Oak Creek — Tom Thurston didn't read a lot of Jack London books when he was a kid, but he's now answering the call of the wild.
Stepping off the state highway through Oak Creek Canyon and onto Thurston's 40-acre ranch feels a lot like arriving at a homestead in the Alaskan wilderness. Pretty much everything is crafted by Thurston's own hands, from the barn out back to "canine condos" for his growing kennel of sled dogs. On Saturday morning, he even cashed in on a leftover cow elk tag, with a well-placed shot taken from no farther than his own driveway.
But the dogs won't be getting a taste of this particular elk's tasty backstraps. Thurston, who owns a general contracting business, has a set system of 1 3/4-pounds of Eagle Pack Pet Foods kibble and 1 pound of raw beef a day for each of the 18 adult race dogs he trains. Thurston has developed constantly-evolving systems for how to feed, train and race sled dogs over the past four years as part of his five-year master plan to venture to the real Alaskan wilderness for the world's penultimate sled dog test - the 1,151-mile Iditarod Trail Sled Dog Race.
Thurston also builds his own sleds and jokes that he would build his own dogs if he could. Instead, he settled for the next best thing - the breeding lines of recent four-time Iditarod champion and Montana resident Doug Swingley's dogs. Thurston got into the sport because of his simple love for the animals and desire to do overnight camping trips, but now has a mature and legitimate team to contend in national distance races.
"There's no messing around this year, we're going to try our hardest. I'm excited, and the dogs are psyched," Thurston said. "I'm struggling to manage their speed to avoid injuries - I've never had a team I've had to stand on the brake as much as I do with them."
Starting with hundreds of miles dragging Thurston's four-wheel ATV in August and moving right into a winter training regime with two overnight trips a week, the dogs ought to be psyched.
Thurston's race season starts Friday at Montana's Seeley Lake 200.
Last year, Thurston finished third, within an hour of the leader. His finish qualified him for this year's Iditarod. But because this is only his third year racing, Thurston wants another season of distance-race experience before heading to Alaska in 2009.
Thurston's passion for the sport has drawn in not only some key support from a handful of local sponsors, but also the shared interest of a couple other locals with teams of dogs looking to get further into the sport.
"Kris (Hoffman) from Grizzle-T (Dog & Sled Works), Jarle (Halsnes) and I will help each other out, from organizing to getting food and training," Thurston said. "Why be individualistic, when you could put the best dogs in Routt County out there? Kind of heading in the direction of a team, I guess."
Halsnes got his first two dogs from Thurston, and now the pair train together and bounce ideas, as well as dogs, back and forth for specific races. As Halsnes' pack has grown over the past five years, so have the distances of the races he enters. This year, Halsnes will give the longest stage-stop race in the lower 48 another crack, Jan. 25 at the International Pedigree Stage Stop Sled Dog Race. It's an eight-stage, 400-mile monster from Jackson, Wyo., to Park City, Utah.
Halsnes' 14-year-old daughter, Krista, also has sled dog fever. Last weekend, Krista took an eight-dog team to compete in the two-day, 28-mile Green River Classic and now is running the dogs 100 miles a week with her sights set on the 2009 Junior Iditarod Sled Dog Race.
"I'm really excited, just being in the wilderness and taking care of the dogs by myself," Krista said of the three-day, 150-mile challenge for 14- to 17-year-olds. "You don't have electricity - it's just you and the dogs, surviving like the olden days."
It's that same basic impulse that has Jarle Halsnes taking his 12-dog team every night to the trails in North Routt up Seedhouse Road, after the snowmobile drivers have headed home.
"You can run with a headlamp all night long, the trails are perfect," Halsnes said. "It's a unique experience, you just have to be careful and have no wrecks.
"If you crash or your team runs away, you're out there in the middle of the dark - but it's a big excitement to be out there by yourself."
The same rings true for Thurston, who is married with two young daughters. Dog sledding serves as a hobby, passion and competitive drive that absorbs as many hours as a second full-time job.
"It's a ton of work, but it's worth it," Thurston said. "You get on the runners, 35 miles from the truck, no one's around, you see all the animals and it's just peaceful.
"Just being in the middle of nowhere, by yourself, but with the dogs. Some people take snowmobiles, I'd rather go 12 miles per hour and have 12 to 16 dogs with me."