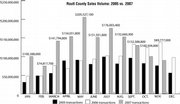 The dollar volume of November real estate transactions in Routt County was off 35 percent from sales in November 2006. Nonetheless, the $89.8 million still represents the second biggest November on record.
According to a market analysis done by Bruce Carta of Land Title Guarantee Co., November marked the third straight month dollar volume has declined, and the amount by which it has declined has grown in each of those successive months. Despite the declines, 2007 transactions will smash last year's all-time record of $1.12 billion.
Routt County breezed past the $1 billion plateau - for only the second time in history - in July 2007 and is on pace to reach $1.5 billion when December totals are tallied.
The next biggest November was recorded in 2005, when November dollar volume was $75.75 million. As recently as November 2003, the monthly total was $34.2 million.
Carta said one trend that leaped out from the November market analysis was the sharp decline in unit volume in entry-level improved housing units of $500,000 and below. Last November saw 109 residential units below the half-million threshold. That number dropped to 53 this year and does not include fractional or interval sales.
The declines in the number of transactions at the entry level mirrors the broader trend that saw the overall number of transactions decline from 262 in November 2006 to 159 this year.
Thirty-year real estate veteran Ken Gold of RE/MAX Steamboat said he's missing something he calls "the churn factor."
"This isn't typically a time of year when we're real busy because the condos are full and you can't get in them, and land is covered in snow. We're all finding we're a little slow right now," Gold said. "The number of listings is down, and a lot of the buyers want to spend less than $300,000. When you show property in that range, it's older product."
The "churn factor" that has turned properties over in Steamboat for decades isn't in effect, Gold said.
"We've always had opportunities to take incremental steps," Gold said. "Someone might buy an inexpensive unit at Meadowlark or at The Lodge and then, two years later, decide they're ready to move from a one-bedroom to a two-bedroom unit. Two years ago, you could buy a Walton Village condo for $80,000. Now, it would cost $215,000. That's good on one hand because people can realize a nice return, but now, the cheapest two-bedroom units are $400,000."
The churn of units moves a growing family into a bigger unit and opens up an entry-level unit for someone just starting out.
"That churn has been eliminated," Gold said.
Gold thinks Steamboat has begun to feel the effects of the national credit crunch.
"It would be silly to think that at some point we weren't going to feel the implications," Gold said. "We've been in a little bubble for a while, while the rest of the world has been going through severe changes. People are coming here from markets where the housing industry is down, and it's hard to borrow. On the positive side, the dynamics here are a lot better than in most places."
Cam Boyd of Prudential Steamboat Realty said the dollar volume for November 2006 was influenced by a large number of sales closing nearly simultaneously as pending contracts from new developments were consummated. November 2007 saw development sales from Emerald Lodge, but overall, fewer of those types of transactions took place, he said.
November 2006 also saw the $20 million sale of the real estate for One Steamboat Place, Boyd pointed out. His office closed a $20 million sale in late December involving the parcel on the tailwater fishery along the Yampa River below Lake Catamount. That transaction will give 2007 one last bump at the end of a record year.
Boyd said that because one large transaction can skew the picture, he tends to look at transaction volume rather than dollar volume to gauge the market.
"I don't think there was one single month in 2007 that matched the same month in 2006 for transaction volume," Boyd said. "But if you compare 2007 to 2005, we were on par right up until the fall, when it began to slip."
Boyd's observation is on target. Carta's figures show that beginning in September, transaction volume dipped below 200 units monthly and slipped below 2005 and 2006 levels.
Boyd said he thinks that trend can be attributed to a lack of inventory and hesitancy on the part of buyers who come here from other markets.
"A lot of inventory is priced above market value," Boyd said. "I think we're getting expensive, and some inventory is priced above what the market is willing to absorb."
Boyd said determining listing prices is easier now than it was two years ago because there's less concern about underpricing property in a buying frenzy, subsequently leading to seller's remorse.
New real estate listings will sell in this market, Boyd said, if priced at market value. And market value is based on comparable sales, but not on comparable listings.