Recklessly rocking
Reckless Kelly brings gritty Texas twang to MusicFest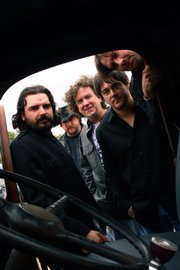 Key Points
Reckless Kelly, opening for Cross Canadian Ragweed
7 p.m. Saturday
The Steamboat Music Festival Tent, mountain area
$20
1-800-922-2722 or go to
www.steamboat.com/concerts
Steamboat Springs — Judging by the crowd noise on the 2006 live album, "Reckless Kelly Was Here," the Austin, Texas, roots rock quintet knows how to get an audience going.
And judging by raucous covers such as The Beatles' "Revolution" and slyly twanging originals such as "Wiggles & Ritalin," both on the live album, those screams and sing-alongs are well-founded.
In its 11 years, Reckless Kelly has scored collaborations with Steve Earle, an appearance at the Grand Ole Opry and a spot on keynote Americana label Sugar Hill Records. On Saturday, the band will open for Cross Canadian Ragweed in one of the few individually ticketed events of The MusicFest at Steamboat.
Fiddle, mandolin and harmonica player Cody Braun talked to 4 Points about the band's previous MusicFest appearances, the roots in "roots rock" and keeping a live show from getting cutesy.
4 Points: So Reckless Kelly has played MusicFest before.
Cody Braun: We've played it, I think, five or six years in a row, and we look forward to it every year. It's a fun chance to get up in the mountains and get to do a little skiing - we (Cody and brother Willy, who is Reckless Kelly's lead singer) grew up in Idaho, so we did a lot of skiing growing up, and would come to Steamboat sometimes in the winter.
Our band has played the Tugboat a bunch of times, years back.
4P: For people who haven't seen you play before, it's a pretty distinctly live experience.
CB: It's pretty fun, high energy, kind of rock 'n' roll with a fiddle. It's got kind of a punk rock delivery, so it's more in your face.
There won't be any teddy bears or roses onstage.
4P: When you hear a band described as "roots rock" - which is what you see most often for you guys - that can mean any variation of rock and country. Does Reckless Kelly lean more toward the rock side?
CB: I think it's gone that way for us, a little more in the recent past.
It's just kind of been real natural that way. Especially with the live shows it's a lot more fun to rock and jump around. But the country vibe is still there, with a good amount of bluegrass. There's something in there for everybody.
4P: You guys have covered or tributed everything from The Beatles to Randy Newman to Warren Zevon. What styles influence your music?
CB: Everything from old Western swing to honky-tonk, with a lot of 1960s and 1970s rock.
We do a lot of different gigs. We can play some of the country bars and we can play rock 'n' roll clubs. It's nice to be able to change up what we do every night.